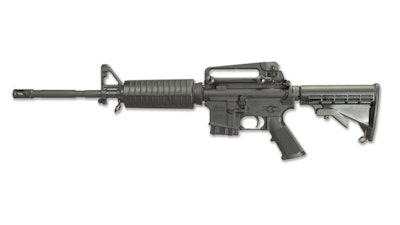 Windham Weaponry
WINDHAM, Maine (AP) — An AR-15-style rifle manufacturer in Maine that was launched by the founder of Bushmaster Firearms is going out of business and its assets will be auctioned next month, the company announced.
Windham Weaponry was created by Richard Dyke in 2011 after he sold Bushmaster to new owners who decided to move manufacturing out of Maine. The new company was much like the old, using most of the same employees and producing a similar product line.
But the manufacturer announced this month it was going out of business after failing to meet loan obligations. Three auctions of the company's assets begin Oct. 1.
Dyke, who died in March at age 89, was a major figure behind the scenes in national politics as a donor and in business as a real estate developer and entrepreneur who rescued distressed properties. A small business center at Husson University bears his name.
Dyke created Bushmaster Firearms after buying a gunmaker that was in bankruptcy in 1976. The company became known for high-end rifles, many of them based on the AR-15 semi-automatic rifle used by the U.S. military. The company held contracts with government law enforcement agencies, including the Secret Service, U.S. Marshal's Service, Border Patrol and Drug Enforcement Agency.
Semi-automatic rifles based on the AR-15 design have been used in numerous high-profile shootings in recent years. Bushmasters were used in the so-called Beltway sniper attacks in 2002, the shooting at Sandy Hook Elementary School in 2012 and the shooting at a Buffalo, New York, grocery store last year.
Dyke owned Bushmaster at the time of the shootings in the District of Columbia area that claimed 10 lives in October 2002. Dyke said at the time that his workers had nothing to be ashamed of. He sold Bushmaster in 2006.
Bushmaster's successor owner stopped producing the brand, but a new buyer revived the Bushmaster name in 2021 and resumed production.