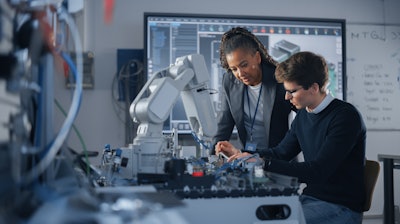 iStock
The U.S. National Science Foundation announced the first Experiential Learning for Emerging and Novel Technologies (ExLENT) investment of $18.8 million to 27 teams at U.S. institutions of higher education, including teams led by minority-serving institutions and historically Black colleges and universities. Each team will receive up to $1 million for up to three years.
ExLENT offers pathways for people with varying STEM experience levels. Of the 27 teams receiving ExLENT awards this round, nine received an award in the Pivots track, which provides current professionals in any field an experiential learning opportunity that builds the skills and competencies they need to pivot into careers in key technologies.
The remaining 18 teams received awards in the Beginnings track. Teams in this track have some experience in STEM fields and will receive additional experiential learning opportunities to deepen their knowledge and skills in key technologies. ExLENT teams will build partnerships between organizations in key technologies and those with expertise in workforce development.
"NSF is pleased to offer these first-ever ExLENT awards to support the creation of new pathways for individuals from diverse backgrounds and experiences to gain on-the-job training in technologies that are critical to the nation's long-term competitiveness," said Erwin Gianchandani, NSF assistant director for Technology, Innovation and Partnerships (TIP). "ExLENT will help ensure more equitable access to high-skill, well-paying STEM-driven jobs for workers at any and all stages of their careers or with varying experiences. ExLENT awardees will work toward ameliorating the large workforce shortages that the nation faces today in key technologies."
ExLENT uses a cohort model and emphasizes the importance of mentorship in achieving the program's goals. In the future, ExLENT will make awards to teams in an additional Explorations track. This track will provide participants with no prior STEM experience an experiential learning opportunity that builds interest, motivation and knowledge in a key technology area and inspires them to further explore different pathways to potential careers in these areas.
"As NSF seeks to support the development of these key technologies, similar support is needed to inspire, cultivate and grow a diverse STEM workforce that can contribute to such innovation," said James L. Moore III, NSF assistant director for STEM Education (EDU). "Through ExLENT, the 27 teams will expand learning opportunities while helping to build the needed professional knowledge, skills and relationships in these critical industries, all of which are areas of national priority."