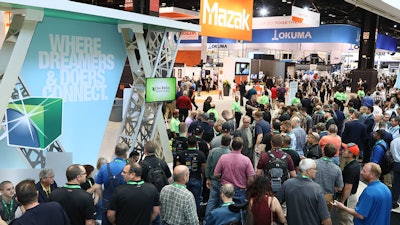 IMTS
Peter Eelman, Vice President and CXO of the Association for Manufacturing Technology, announced Monday that IMTS 2020 is canceled.
The International Manufacturing Technology Show is one of the biggest manufacturing industry trade shows held in North America. The show is owned and managed by AMT.
On May 1, Eelman said that the show would go on as planned September 14-19 at McCormick Place in Chicago, but a lot can happen in a month — particularly during a global pandemic.
According to a statement from Eelman, AMT has been closely monitoring COVID-19's impact on the IMTS community. He says the group spent the last several weeks trying to get clarity from Illinois Gov. J.B. Pritzker and Chicago Mayor Lori Lightfoot regarding the exact requirements for trade shows to take place in Chicago.
In early May, Governor Pritzker introduced a five-phase plan to re-open Illinois businesses; conventions are part of the fifth phase.
The plan calls for a COVID-19 vaccine or highly effective treatment protocol in order to enter Phase 5. Neither is expected in the coming months.
As a result, Eelman says IMTS "had to be canceled," because "the health and safety of our exhibitors and audience remains our top priority."
According to Eelman, registration fees can be refunded or transferred to a tax-deductible donation to Miles For Manufacturing, which supports programs that prepare students for careers in manufacturing technology.
He adds that an "in-person IMTS show can never be replaced with a virtual event," however, AMT is planning to launch two programs to offer networking opportunities and technical knowledge. The new initiatives include:
IMTS Network: A live-streaming channel featuring human-interest stories from the manufacturing technology sector.

IMTS Spark: A digital platform that hopes to connect IMTS exhibitors and visitors, as well as provide educational and networking opportunities.
Eelman's statement didn't provide a launch date for IMTS Network or IMTS Spark.
IMTS is a biennial show. The next show is currently scheduled for September 12-17, 2022.