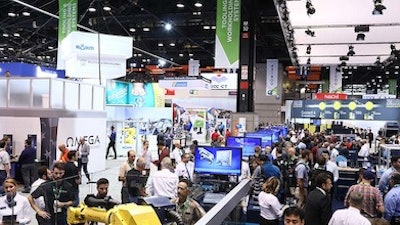 IMTS
Many in the IMTS community are helping the world fight COVID-19. Here are some examples of our industry supporting the fight.
Autodesk is making design tools freely accessible including 360 Design, Fusion 360, Fusion Team, and AutoCAD. They are also working to ensure their customers have reliable access to Autodesk support.
Hexagon Manufacturing Intelligence is offering free offline licensing, remote access options, and online learning tools to manufacturing professionals working from home and facing new productivity challenges.
Jergens, Inc., a Cleveland manufacturer of standard tooling components, is producing its in-demand, high-end screwdriver tool that helps build ventilators.
Sunnen Products Company's bore sizing and finishing technology is used to hone precision-fit valves and compressors for ventilators as well as components in infusion pumps and respirators.
ExOne and Stratasys, providers of 3D printing systems and products, are making 3D-printed face shields and producing many critical parts and components.
Roboze, another 3D printing provider, is making valves and print molds that can be used to mass-produce face masks. Protolabs is 3D printing valves that can be used to create a non-invasive ventilator mask.
Formlabs, a Boston-based 3D printing company, is working to supply hospitals with 3D printed COVID-19 test swabs. Ultimaker launched a website for hospitals that have approved 3D print designs and specs to connect directly with nearby 3D printing experts.
Xometry is working on a wide range of COVID-related projects including temperature measurement devices, masks, visors, biospray sanitation, and ventilator parts.
Materialise, a provider of 3D printing services, has released files for a 3D-printed hands-free door handle attachment to alleviate Coronavirus transmission via one of the most common mediums, door handles.
In addition, exhibitors, who sponsor the Smartforce Student Summit at IMTS, including Autodesk, FANUC America, Festo Didactic, Haas Automation, Mastercam, and Tooling U-SME, are providing free online resources for the education market. For details, links, or to share with a teacher, check out Slack. Zoom. Bam! A helpful guide to educational resources for teachers and students.
IMTS Partners
AMT – The Association For Manufacturing Technology, which owns and operates IMTS, has created a COVID-19 resources webpage for manufacturers to share updates on government actions, business strategies to manage the pandemic, and opportunities to help the world fight this pandemic.
As you may have heard, our partner, McCormick Place, is assisting in this crisis by converting several exhibit halls into an alternate care facility for patients with non-threatening conditions. We are very pleased to see that they are doing their part in helping get this virus under control in Chicago.
McCormick Place, under the direction of FEMA & The Army Corps of Engineers, is working diligently to get ready to take patients starting April 20. We are getting regular updates from McCormick Place to understand what methods are being used to get ready for patients and what the sanitation/cleansing process looks like when this is over, so we can be assured McCormick will be safe for trade shows to resume in June and for our arrival in September.
To read more about McCormick Place being used as an alternate care facility – you can read this article from the Chicago Tribune.
Like you, we are concerned about the health crisis that we are all living through. We sincerely hope that your family, employees, and companies remain safe and healthy through this time. Please share how your business is responding to the crisis at IMTS.com/stories.
Stay safe, healthy, and connected.