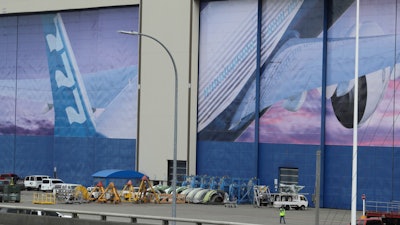 AP Photo
The economic downturn prompted by a global coronavirus pandemic hit the commercial aviation sector particularly hard — prompting Boeing to call for at least $60 billion in government assistance to help the industry's recovery.
But the outbreak also followed months of questions about Boeing's leadership and culture in the wake of two deadly crashes and the indefinite grounding of one of its signature planes, and some lawmakers suggested that a recovery package for a global aerospace giant should come with significant strings attached — potentially including an equity stake in the company.
Boeing's new chief executive, however, said this week that the company had "plenty of options" to find another path forward if lawmakers sought a government stake as part of a relief package.
"If they attach too many things to do it, of course you take a different course," David Calhoun told Fox Business on Tuesday.
He told the network that the company hopes lawmakers would instead support credit markets to "allow us to borrow against our future" and "pay everything back." He later told CNBC that the company has about $15 billion in cash.
Calhoun noted the company is continuing to pay its employees and suppliers despite the dramatic slowdown. The company this week halted its operations in Seattle after a slew of workers tested positive for COVID-19.
The $2 trillion economic recovery package under discussion in Congress was expected to include tens of millions for airlines and their suppliers.