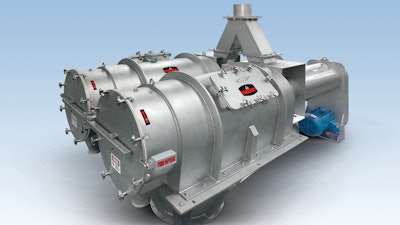 May River Capital, a Chicago-based private equity firm focused on middle market industrial companies, has established Advanced Material Processing (AMP), a new company focused on processing equipment for the food and beverage, pharmaceutical, nutraceutical and chemical sectors. Most recently the company completed the acquisition of Milburn, New Jersey-based Kason Corporation.
Kason brings nearly 50 years of experience designing and manufacturing screening, drying, cooling and processing equipment. It's being joined by Marion Process Solutions, an 80-year-old company based in Marion, IA that custom manufactures industrial mixers and blenders, as well as microwave vacuum drying systems.
"These two companies offer a deeply-synergistic opportunity to scale a set of highly-engineered product portfolios that are tailored to mission critical applications," said Henry Alamzad, CEO, Kason Corporation. "We look forward to expanding their footprints whilst bringing the strengths of both organizations to bear in the market, solving the greater material processing needs of our customers."
"Great things happen when you align industry leaders, and the combination of Kason and Marion brings a new level of competitive advantage to our customers," said Lee Eilers, CEO of Marion Process Solutions. "These are certainly exciting times as AMP continues to expand its product and service offering to serve a market that expects excellence as the benchmark."