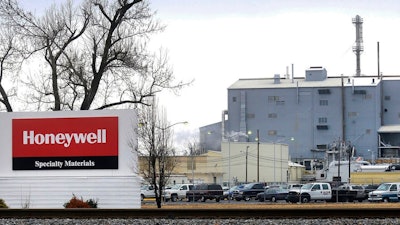 AP file
RALEIGH, N.C. (AP) — Industrial conglomerate Honeywell International Inc. is moving its headquarters and 750 jobs from New Jersey to Charlotte, North Carolina.
Honeywell CEO Darius Adamczyk announced the decision Friday in Charlotte a day after North Carolina expanded tax breaks for high-paying jobs. Lawmakers hurried through legislation this week that more than doubles the per-job annual cap on tax breaks to $16,000 to attract corporations that move high-paying jobs to North Carolina.
Honeywell's decision comes three years after it considered moving its Morris Plains, New Jersey, base but received a $40 million tax credit to stay.
Honeywell said it employed 131,000 people worldwide at the end of last year, about 35 percent of those in the United States. The company makes aerospace, energy efficiency, specialty chemicals, electronic and security products.