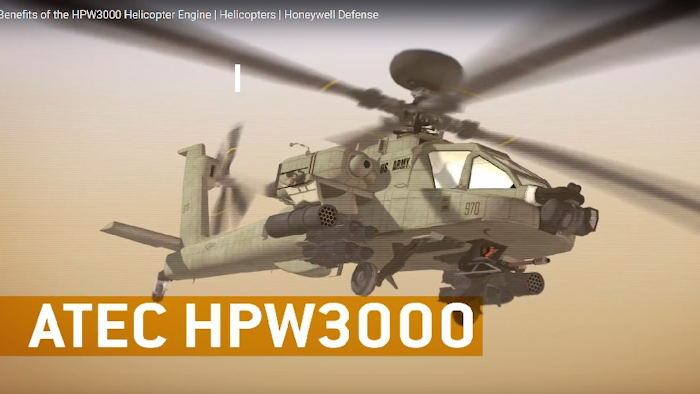 The U.S. Army has announced that the Advanced Turbine Engine Company (ATEC), a joint venture of Honeywell and Pratt & Whitney, has been awarded a contract for preliminary design review of a new engine for the Army's fleet of Black Hawk and Apache helicopters.
The two-year contract, part of the Army's Improved Turbine Engine (ITE) program, will support the design of an advanced 3,000 shaft horsepower turbine engine -- ATEC's HPW3000.
The primary goal of the ITE program is to produce an affordable new engine that will dramatically improve performance over the current engine. The Army specifications require that the new engine be 50 percent more powerful, 25 percent more fuel efficient, and provide 20 percent longer engine life over the current engine, while also meeting stringent performance goals in high altitude and hot conditions at 6,000 feet and 95 degrees Fahrenheit.
ATEC recently completed testing of two HPW3000 demonstrator engines, which performed very well and have already validated various program requirements.
The HPW3000 features a dual-spool architecture and utilizes many of the latest gas turbine engine technologies. The engine's dual-spool architecture offers improved engine efficiency, decreased maintenance costs, extended engine life and greater power growth capabilities. According to ATEC, when factoring in savings from decreased fuel consumption and lowered operating and support costs, the HPW3000 is expected to offer potential annual savings of $1 billion, compared with the current engine in the Black Hawk and Apache fleets.
The Army's development schedule for the engine program calls for the service to select from competing preliminary engine designs in 2018 and then proceed with a sole engine developer.
The engine was also the topic of a recent IEN Now video, available here.