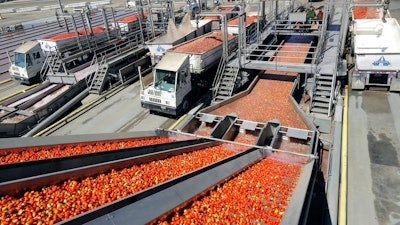 AP Photo/Marcio Jose Sanchez, File
WASHINGTON (AP) — Led by costlier gas, food, and chemicals, U.S. wholesale prices surged 0.6 percent in October, the biggest month-to-month rise in six years. Yet excluding items that tend to fluctuate sharply from month to month, inflation pressures remain tame.
The jump in the producer price index, which measures prices before they reach consumers, followed a smaller 0.2 percent increase in September. Compared with 12 months earlier, producer prices rose a sharp 2.9 percent in October.
But when food, energy and other volatile categories are excluded, so-called core wholesale prices rose only a modest 0.2 percent in October and 2.8 percent from a year earlier.
Higher prices for services such as transportation and warehousing drove most of October's overall increase in wholesale prices. Many trucking companies have had to pay bonuses and raise pay to hire enough truck drivers, for example.
And the year-over-year increase in wholesale prices is still lower than it was in the summer, when it topped 3 percent. In addition, oil prices declined in October, which will likely lower gasoline costs in the coming months.
"There is little sign that a more marked acceleration (in inflation) lies around the corner," Andrew Hunter, U.S. economist at Capital Economics, a forecasting firm, said in a research note.
Economists say the Trump administration's trade war with China, which has led it to impose tariffs on $250 billion of Chinese imports, has so far had only a limited impact. Hunter suggested that the dollar's rise in value this year, which makes imports less expensive for Americans, might be offsetting much of the impact of the tariffs.
Wholesale prices for pork rose by the most in more than two years last month. But Stephen Stanley, chief economist at Amherst Pierpont, said that likely marked a snapback after China imposed retaliatory tariffs on U.S. pork earlier this year. Those tariffs initially depressed China's purchases and forced pork farmers to lower their prices. That trend now appears to be reversing itself, Stanley said.
The Federal Reserve is keeping a close eye on price changes as it monitors the economy for signs of overheating. The unemployment rate is at a five-decade low of 3.7 percent, and companies are raising wages and salaries to attract and keep workers. Average hourly pay rose in October from a year earlier at the fastest pace in nearly a decade.
Companies may have to raise prices to offset the costs of higher pay, which could spur higher inflation. But businesses could also invest in more machinery and software to make their employees more efficient, which would enable them to pay more without raising prices.
Fed policymakers finished a two-day meeting Thursday without changing the short-term interest rate they control. But most economists expect the Fed will hike short-term rates for a fourth time this year when it next meets in December. The Fed has signaled it expects to raise rates three more times next year.
After its meeting Thursday, the Fed issued a statement that suggested it saw little sign that inflation would accelerate beyond its 2 percent target. Consumer prices rose 2.3 percent in September from a year earlier.
Friday's report showed that wholesale gas prices rose 7.6 in October and food costs increased 1 percent. The price of new cars fell 0.7 percent, as automakers introduced their new car models last month. Newer cars typically include additional features and the government reflects that by lowering its measure of auto prices.