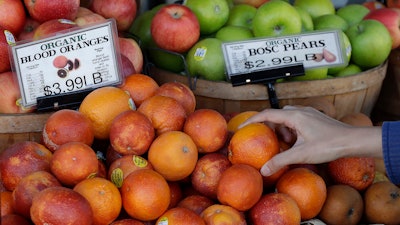 AP Photo/Jeff Chiu
WASHINGTON (AP) — U.S. wholesale prices increased 0.3 percent in March, driven higher by the largest increase in food costs in nearly four years. The Labor Department said Tuesday that the March gain in the producer price index, which measures inflation pressures before they reach the consumer, followed a 0.2 percent rise in February and a 0.4 percent jump in January.
Food prices at the wholesale level surged 2.2 percent, the biggest increase since April 2014, with many categories showing gains. Energy costs, however, fell 2.1 percent as gasoline prices dropped 3.7 percent, the largest monthly decline since last May.
Over the past 12 months, wholesale prices have risen three percent, the fastest annual pace since last November and another sign that inflation pressures have started to increase after years of being dormant. Core inflation, which excludes volatile food and energy prices, was up 0.3 percent in March, and 2.7 percent over the past 12 months.
The Federal Reserve last month increased its benchmark interest rate by a quarter-point and signaled that it expected to raise rates a total of three times this year, the same number of rate hikes it delivered in 2017. However, many economists believe that stronger economic growth and a rise in inflation pressures will end up pushing the Fed to slightly accelerate its pace of rate hikes to four increases this year.
The big increase in food costs reflected widespread gains across a number of categories with fish prices jumping 62.5 percent, the biggest gain since 2014, while egg prices were up 41.6 percent and vegetable costs rose 31.5 percent.