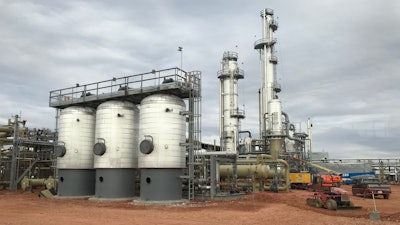 Lt. Gov. Brent Sanford, @BrentSanfordND
WATFORD CITY, N.D. (AP) — Oasis Midstream Partners has completed a natural gas processing plant that will help reduce the wasteful flaring of excess natural gas in North Dakota's Bakken oil patch.
The $150 million Oasis Wild Basin II plant near Watford City will add 200 million cubic feet per day of natural gas processing capacity. The first major plant completed in recent years in the Bakken is to begin operating in November.
The Bismarck Tribune reports Oasis built the plant to support its own gas production, but it also plans to process gas from other companies. The new plant will increase the state's processing capacity by about 10 percent.
Oasis CEO Taylor Reid projects the new plant will be full in late 2019 or 2020, depending on the level of contracts from others.