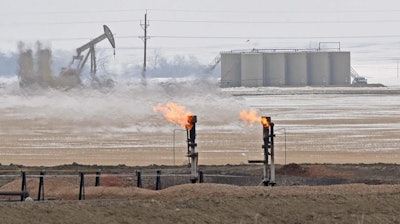 Billings Gazette, @billingsgazette
BISMARCK, N.D. (AP) — A proposal to expand a natural gas processing plant in northwestern North Dakota aims to keep up with growing volumes of Bakken gas production and reduce wasteful flaring.
Kinder Morgan has filed an application with the state Public Service Commission to expand the Roosevelt Gas Plant in McKenzie County, The Bismarck Tribune reported . The expansion would add 150 million cubic feet per day of processing capacity at the plant.
Companies in North Dakota flared more than 400 million cubic feet per day of natural gas in May, according to the Department of Mineral Resources. The state produced 2.3 billion cubic feet per day of natural gas that month, and those volumes are projected to continue increasing to eventually exceed 4 billion cubic feet per day, according to Justin Kringstad, director of the North Dakota Pipeline Authority.
The Kinder Morgan proposal estimates the expansion will cost $150 million. Operations could begin by November 2019, pending regulatory approvals.
The Public Service Commission will need to approve the expansion. A public hearing on the proposal hasn't been scheduled.
If approved, the plant would be the sixth natural gas plant expansion or new plant under development in North Dakota. Five of the projects are also located in McKenzie County, which leads the state in oil production and where wells produce the highest ratio of natural gas, Kringstad said.
While the additional plants and expansions should help operators catch up with natural gas volumes, additional plants and pipelines will likely be needed in the future, he said.