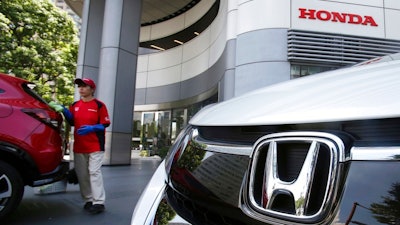 AP Photo/Koji Sasahara
TOKYO (AP) — Honda Motor Co. profits jumped 17.8 percent in the latest quarter, driven by strong auto sales in North America and motorcycle sales in Asia, the company said Tuesday.
The Japanese automaker reported profits of 244.3 billion yen ($2.2 billion) in the April-June quarter, up from 207.3 billion yen last year. Sales rose 8.4 percent to 4.0 trillion yen.
Honda sold 518,000 vehicles in North America, an increase of 7.7 percent, boosted by higher sales of the Honda Pilot midsize SUV. Globally, auto sales rose 3 percent to 1.3 million.
Growth in Indonesia, India and Vietnam drove up total motorcycle sales 13.9 percent to 5.35 million units. By volume, Asia accounts for 90 percent of Honda's motorcycle sales.
Profits rose despite the negative impact of exchange rates and damage from river flooding that has forced suspension of production at a factory in Mexico since late last June.
Honda raised its profit forecast by 8 percent for the year ending next March 31 to 615 billion yen. That would still be a 42 percent drop from the previous year. It lowered its projected auto sales slightly to 5.3 million vehicles.