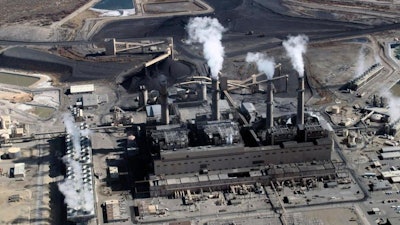 Susan Montoya Bryan/AP
FARMINGTON, N.M. (AP) — Officials in northwestern New Mexico are grappling with the likely financial effects of a coal power plant closure near the Navajo Nation and in one of the country's poorest states.
At a tense meeting with lawmakers on Thursday, Farmington Mayor Nate Duckett said waiting for the generating station to close in the Four Corners region is "a ticking time bomb," because of the looming financial crisis the closure would spark, The Daily Times of Farmington, New Mexico, reports. The plant provides needed jobs and revenue, he said.
San Juan College President Toni Pendergrass said the closure will mean a loss of $2 million in property tax revenue to the college's budget, as well as $300,000 in training contracts and $116,000 in scholarships. Those scholarships are provided by the companies that run the mine and generating station, he said.
Legislators from around the state heard about the impact of the pending closure of the San Juan Generating Station in 2022 as they convened at the San Juan College School of Energy on Thursday.
The legislators gathered as part of the Water and Natural Resources Committee meeting to discuss the future of energy in the state and the San Juan Basin.
Public Service Co. of New Mexico plans to close the San Juan plant within the next few years as it works to eliminate coal resources from its portfolio. The company already has shuttered two of the four units at the plant as part of a federal mandate to reduce haze-causing pollution.
The utility recently has sought rate increase.
The San Juan Generating Station has long been a target of environmentalists, some of whom say it should have closed years ago. They argue ratepayers should not be saddled with previous decisions by utility executives that resulted in more investments in the plant.
Critics also have long complained that the San Juan Generating Station and the nearby Four Corners plant emit more pollution than any other source in North America, and the pollution degrades air and water resources throughout the San Juan Basin.
The two remaining units at Four Corners burn about 19,000 tons of coal a day, according to critics.