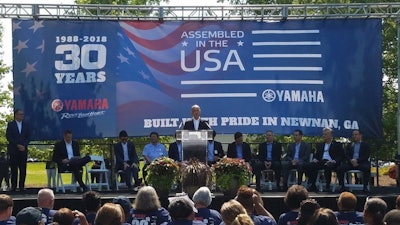 Yamaha Motor Corp., USA
Yamaha Motor Manufacturing Corporation of America (YMMC) and Yamaha Motor Corp., USA, (YMUS) are celebrating 30 years of U.S. manufacturing at the Newnan, Georgia, facility.
Throughout the three decades as a manufacturer based in Georgia, YMMC has produced more than 3.5 million vehicles including ATVs, SxS vehicles, golf cars and watercraft for worldwide distribution.
For years, Yamaha's Assembled in USA brand has represented the highest standards in powersports manufacturing and the thousands of U.S. jobs that Yamaha's local manufacturing supports.
Over the past 15 years, Yamaha has invested more than $354 million to create and maintain a state-of-the-art, 1,355,000 square foot facility in Newnan, while ensuring top-quality products are built in a safe and environmentally responsible manner.
Of Yamaha's approximately 3,400 U.S. employees, more than 1,500 people are directly employed at its YMMC factory. The factory is ISO9001 Quality Management System and ISO14001 Environmental Management System certified.