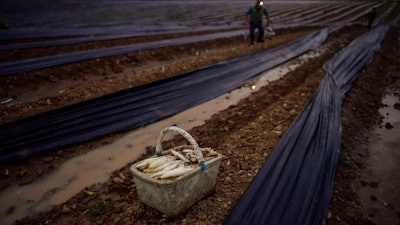 AP Photo / Alvaro Barrientos
CAPARROSO, Spain (AP) — With head-mounted flashlights and boots deep in the mud, a firefly-like party of laborers in northern Spain harvest precious asparagus shoots once the night falls.
Dubbed the "white gold" of these northern Spanish farms because of their color and the high price they fetch in markets and restaurants around the world, the stringy delicacies are planted every fall and picked each year between April and June.
The delicate process is performed during the night to shield the vegetables from direct sunlight, which could turn the tip of the shoots from white to a purple-like color and dry their much-appreciated moisture.
Maintaining the asparagus' high concentration of water is, according to experts, key to their balanced and slightly bitter flavor. That's why the harvest is speedy and followed, within a few hours, with the boiling and canning of the asparagus that aren't sold fresh in the markets.
Pickers move fast, in silence, making their way through small mountain-shaped rows of soil that bury the vegetables, lifting the black plastic that covers them and cutting the elongated shoots from their base by stabbing the dunes of mud.
Despite the arduous and back-crushing job, 38-year-old Cameroon-native Blaise Tchouankwi Ngabo said he was willing to work as fast as possible in a farm near the town of Caparroso in order to be paid more, as salaries for seasonal workers grow in line with the amount of asparagus harvested.
Working non-stop from dusk to dawn, a dozen pickers can harvest up to 1.5 tons of asparagus at the height of the asparagus-picking season.
"One has to earn one's living," Tchouankwi said on a recent morning, taking a brief pause to gobble down a sandwich before getting back to the muddy harvest.
Caparroso is in Navarra, a northern Spanish region with cold nights in winter and spring that are said to produce the top-quality asparagus. The cans and jars receive a special label of geographical origin under European Union rules for traditional food products.
A Navarrese farmer was selling each kilogram of asparagus (2.2 pounds) for 2.90 euros ($3.4) on a recent visit to Uterga, another town along the Way of St. James, an ancient pilgrimage route.
The price can double or triple in food markets and even further when served in restaurants, where the bill for a dish of three or four cooked asparagus dressed with olive oil, vinaigrette or mayonnaise begins at nine euros ($10.60).
Locals eat them by holding them with two fingers, upside down and above the head, and slowly bringing them down and into the mouth.
The best asparaguses are said to melt at the touch of the tongue.