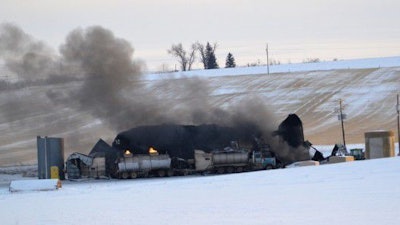 Wibaux County Disaster and Emergency Services via Billings Gazette
BILLINGS, Mont. (AP) — A trucking company and its owner were convicted of more than a dozen federal charges filed after a 2012 explosion destroyed an oil processing plant in eastern Montana.
Woody's Trucking and Donald Wood Jr. of Baker were found guilty Tuesday of conspiracy, wire fraud, mail fraud, transporting hazardous materials without proper documentation and obstructing an investigation. Sentencing is set for October, The Billings Gazette reports . 
Woody's Trucking and Wood Jr. must forfeit nearly $645,000, prosecutors said. 
The case began when a Woody's truck hauling natural gas condensate caught fire while a tank was being unloaded at Custom Carbon Processing Inc., a slop oil recycling plant near the town of Wibaux. Three workers were seriously injured and the fire burned for days. 
Woody's Trucking hadn't notified its insurance company it was hauling hazardous materials and did not have insurance coverage for that risk, prosecutors said. 
Witnesses testified that Wood Jr. told the truck driver to place a false bill of lading in the burned out truck to cover up the fact that the company was hauling natural gas condensate without placards, prosecutors said. 
The jury deliberated for three hours before finding the defendants guilty of 13 of the 14 charges against them. They were acquitted of one placarding violation. 
The truck driver was convicted in 2015 of transporting hazardous materials without a placard and was sentenced to three years on probation and ordered to pay a $2,000 fine. 
The injured workers sued Woody's Trucking and Custom Carbon Processing. Woody's submitted the lawsuit to its insurance company, which paid $250,000 to the injured men based on the belief the truck was hauling non-hazardous materials. 
The insurance company is suing Woody's Trucking over the claim. 
Federal charges are pending against Custom Carbon Processing for not installing explosion-proof wiring and failing to mitigate other dangers at the processing plant.