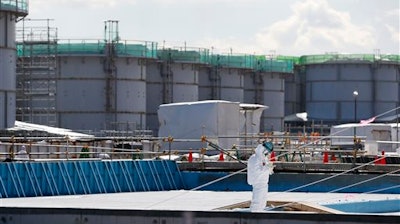 AP file
TOKYO (AP) — Japan's government proposed an energy plan Wednesday that sets ambitious targets for nuclear energy use in the coming decade despite challenges after the 2011 Fukushima disaster.
The draft, presented to a government-commissioned panel, said that by fiscal 2030 nuclear energy should account for 20-22 percent of Japan's total power generation. The industry ministry's draft plan also sets a 22-24 percent target for renewable energy, with the remainder coming from fossil fuels, in line with goals set in 2015. The Cabinet is expected to approve the plan around July.
The targets for nuclear energy appear difficult to achieve given that electric utilities are opting to scrap aging reactors rather than pay higher costs to meet post-Fukushima safety standards. Uncertainty over what to do with massive radioactive waste in the crowded island nation is another big concern. The plan maintains Japan's fuel reprocessing ambitions despite international concerns about the stockpile of plutonium produced by the process.
The plan avoids the unpopular issue of building new nuclear plants to achieve the target. Panel chairman Masahiro Sakane, advisor to Komatsu Ltd., called it the "inconvenient truth" from which the government averted its eyes.
Nuclear energy now accounts for less than 2 percent of Japan's energy mix since most reactors were idled after the 2011 Fukushima disaster. Only five reactors have since restarted.
Japanese utilities have decided to scrap 15 reactors, including six at Fukushima, since the accident, bringing the number of usable reactors down to 39. Experts say 16 more that remain idled are likely to be decommissioned and are not being considered for restarts.
Takeo Kikkawa, a Tokyo University of Science professor and energy expert on the panel, said the nuclear target would be impossible to achieve within 12 years unless all remaining reactors are granted permission to run 20 more years past their standard 40-year operational life. Without the extension or the building of new reactors, Japan will have no workable reactors by 2050, he said.
Less nuclear energy means higher reliance on fossil fuels, contrary to Japan's emissions reduction pledges, he said. Japan has set a goal of cutting its carbon emissions by 26 percent from 2013 levels by 2030 and by 80 percent by 2050.
Former Prime Minister Junichiro Koizumi, who has become an anti-nuclear activist since the Fukushima accident, told the newspaper Tokyo Shimbun recently that nuclear energy could be costly because of safety requirements and the unrealistic fuel reprocessing program, and that Japan should shift from nuclear to renewables.
___