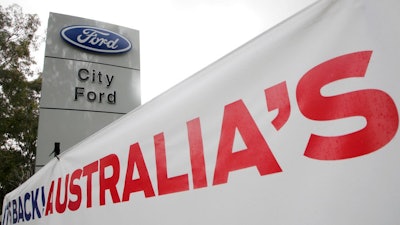 AP Photo/Rick Rycroft, File
CANBERRA, Australia (AP) — Ford Motor Co.'s Australian subsidiary has been fined 10 million Australian dollars ($7.6 million) for mishandling customer complaints about faulty automatic transmissions in thousands of cars.
The fine in the Federal Court on Thursday equals the largest penalty ever for a breach of Australian Consumer Law, matching that imposed on the Coles supermarket chain in 2014 for misconduct toward suppliers.
The Federal Court ordered the A$10 million penalty for "unconscionable conduct" after the consumer watchdog, the Australian Competition and Consumer Commission, took action against Ford Australia for mishandling customer complaints made between May 2015 and February 2016 over cars that shuddered, jerked or lost power because of faulty transmissions.
The case involved about 10,500 customer complaints over Ford Focus, Fiesta and EcoSport models made from 2011 to 2015 in the United States, India, Germany and Thailand and fitted with DPS6 PowerShift dual-clutch automatic transmissions.
The PowerShift has also been the target of consumer legal action in the United States and Canada.
The commission told The AP in a statement that Ford's headquarters in Dearborn, Michigan, was aware of "quality issues" with the PowerShift.
Ford's head office issued technical services bulletins about those problems that Ford Australia could have accessed, the statement said.
The transmissions in many cases failed repeatedly and Australian customers were made to pay for replacement vehicles.
"In most cases, Ford refused to provide a refund or no-cost replacement vehicle to consumers, even after vehicles had undergone multiple repairs," the commission's chairman Rod Sims said in a statement.
Ford has agreed to establish an independent complaints review program for customers who were refused a refund or no-cost replacement car. Review hearings will begin in July.
Ford said in a statement it will pay compensation according to the outcome of the review.
"We took too long to identify the issues and we acknowledge that PowerShift customers did not have complaints handled appropriately between May 2015 and February 2016," Ford Australian president and chief executive Graeme Whickman said in a statement.
"We were overwhelmed with the volume of complaints and, while it was not intended, over a 10-month period our processes were inadequate and information provided was either inaccurate or incomplete. We let our customers down and for that we are sorry," he added.
In court, Justice John Middleton said a large penalty was required to deter Ford and other car makers from mistreating customers in the future.
"Because so many customers deal with the car industry, it is imperative that those operating in it comply with the Australian Consumer Law," Middleton said.
Ford will also pay AU$500,000 toward the commission's legal costs.
Ford stopped making cars in Australia in 2016 but it says it remains the largest automotive presence in Australia with more than 2,000 employees in the country.
Ford said 75,000 cars with PowerShift transmissions have been sold in Australia.