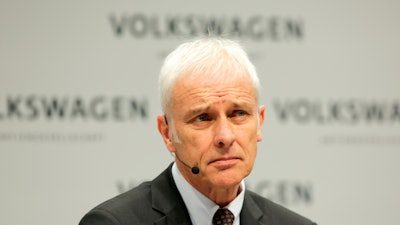 AP Photo/Markus Schreiber
(AP) — Volkswagen Group says it is contemplating a management reshuffle that raises questions about CEO Matthias Mueller's future with the company. The company said Tuesday that it "considers a further development of the management structure of the group" and that "this could include a change in the position of the chairman of the board of management," the German term for CEO.
The statement said board of directors head Hans Dieter Poetsch was in discussions with top managers about how their responsibilities are divided. It said the result of the talks was "currently open" and that Mueller "showed his willingness to contribute" to the changes. Germany's Handelsblatt business publication reported, however, that Mueller would be replaced by Herbert Diess, head of the core Volkswagen brand.
Mueller, 64, took over suddenly in 2015 when predecessor Martin Winterkorn fell victim to the company's scandal over cars rigged to cheat on diesel emissions tests. He has led the company through the scandal to record sales and strong profits.
Diess was regarded as a potential future CEO when he joined Volkswagen from BMW in July, 2015. But when Winterkorn fell, he had been with the company for less than three months.