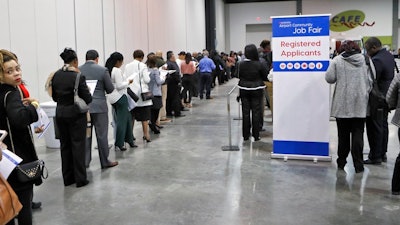 Bob Andres/Atlanta Journal-Constitution via AP
WASHINGTON (AP) — U.S. companies hired 241,000 new workers in March, a private survey found, a solid total that suggests the already-low unemployment rate may be headed lower in the coming months.
Payroll processor ADP said Wednesday that the gains were strong across different industries, with construction, manufacturing and professional services such as accounting showing healthy hiring increases.
The figures come two days before the government releases its monthly employment figures. Economists forecast that Friday's official report will show employers added 185,000 jobs, a smaller but still solid figure, according to a survey by data provider FactSet.
ADP compiles hiring data from millions of companies that are clients of its payroll services. Its figures frequently diverge from the government's report. Last month, the government said 313,000 jobs were added, much higher than ADP's initial estimate of 235,000.
Mark Zandi, chief economist at Moody's Analytics, which prepares the ADP report, cautioned that the actual job count in the government's report Friday may be lower than ADP's because the government's figures are more sensitive to weather. Several Northeastern cities were hit with snowstorms last month, which may have restrained hiring in construction and other industries.
Still, the figures suggest that the recent run of healthy job gains may have continued into March. Employers nationwide have added an average of 242,000 jobs a month in the past three months. Hiring at that pace indicates that businesses anticipate robust consumer and business spending.
Zandi expects hiring will remain strong enough over the next 12 months to reduce the unemployment rate, already at a 17-year low of 4.1 percent, to as low as 3.5 percent.
The emerging trade fight with China should have only a small impact on growth and jobs, Zandi said in a conference call with reporters, unless it escalates significantly. It may slice one or two-tenths of a percentage point from growth.
"So far, at least, this is relatively minor," he said. "It's going to take a lot to derail this economy."