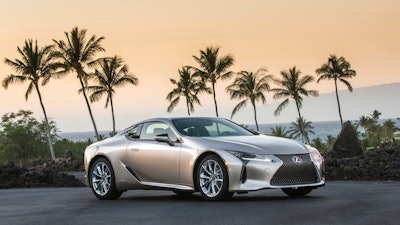 David Dewhurst/Courtesy of Toyota Motor Sales U.S.A. via AP
Ten years ago, you could count on one hand the number of hybrid models available from luxury automakers. Today, there are 24 and more on the way. It turns out there's a good reason for the popularity of hybrid powertrains in luxury cars, and it's not just fuel economy. Hybrids are quiet, improve mileage range and can deliver strong acceleration, especially from a stop. Many luxury automakers have seized on those attributes and have made hybrid versions of premium models. But each automaker takes a different approach.
Hybrids essentially marry electric motors to a conventional engine, relieving the engine of some of the propulsion burden and recovering energy when you slow down. This energy is stored in a battery to be used the next time you need to accelerate. It's not that simple, however, since the hybrid hardware adds weight, takes up space and increases cost. Still, hybrids have steadily become better over the years.
Plug-in hybrids have ports and are a stepping stone to a pure battery-only electric vehicle, providing several miles of largely all-electric driving. When the battery runs low, these powertrains revert to traditional hybrid operation, which draws more heavily from the gasoline engine. If you're diligent about plugging in and going easy on the accelerator, short trips in a plug-in hybrid can use surprisingly little fuel.
Here is a rundown of what you can expect if you're shopping for a luxury hybrid:
LEXUS
Lexus offers a hybrid version for almost every model it sells, from its small NX SUV to its premier coupes and sedans. The GS 450h midsize sedan, the LC 500h sport coupe and the RX 450h SUV — all hybrid versions of their conventional siblings — use a six-cylinder engine that's bolstered by battery-fed electric motors. They aren't plug-ins, so these hybrids do all the hybrid-related thinking for the driver and ask nothing in return. They do their best work around town, boosting low-end acceleration, adding quietness and maximizing fuel economy.
MERCEDES-BENZ
Mercedes-Benz offers plug-in hybrid versions of its GLE SUV and C-Class sedan, both of which offer more power than any of their respective stablemates except for the high-performance AMG-badged vehicles. The GLE 550e plug-in hybrid and the C350e plug-in hybrid are also the most efficient versions of each model, though you have to pay upfront for the privilege. To that end, the automaker is deploying 48-volt "mild hybrid" tech for its latest six-cylinder models. These vehicles won't be badged as hybrids, but the guts are all there, albeit in a smaller, less expensive form.
PORSCHE
Porsche goes from mild to wild in the six hybrid variants of the Panamera sedan. Topping the list is the Panamera Turbo S E-Hybrid that delivers a bruising 680 horsepower. It's one of the quickest cars on the road, yet it can also travel about 15 miles on battery power alone. Meanwhile, the Cayenne S E-Hybrid's electric hardware adds 95 horsepower to its gasoline V6 and enhances its ability to go off-road — electric motors allow for precise control when you're crawling over tricky terrain.
BMW
BMW has a strong hybrid presence, too, offering plug-in hybrid versions of three of its sedans — the 3 Series , the 5 Series and the 7 Series — and its largest SUV, the X5 . The German automaker takes an atypical strategy, with the hybrid versions positioned somewhat lower pricewise in their respective model lineups. For instance, the sticker price of the hybrid 530e iPerformance starts at the same price as the least expensive 5 Series you can buy, the 530i, and matches its acceleration from 0 to 60 mph.
VOLVO
Volvo's approach toward hybridization is to underpin models with the same plug-in hybrid powertrain. The S90 T8 sedan, the XC60 T8 SUV and the XC90 T8 SUV all sport a turbocharged and supercharged four-cylinder engine that drives the front wheels only while the electric motor drives the rear wheels. Each one is the most powerful and fuel-efficient — and the most expensive — version in their respective ranges.
CADILLAC
American automakers don't have as comprehensive a presence in premium luxury hybrids as others. Cadillac's CT6 Plug-In sedan is the most significant, and it offers a pleasing mix of luxury, power and electric-only driving range. The brand used to offer the ELR, which was essentially a restyled Chevrolet Volt, but buyers balked at the price and Cadillac discontinued it. It serves as a cautionary tale that hybrid-ness alone isn't enough to secure success in the luxury segment.
EDMUNDS SAYS: Hybrid powertrains make a lot of sense for premium luxury cars thanks to the power, range, and quieter driving experience they can provide.