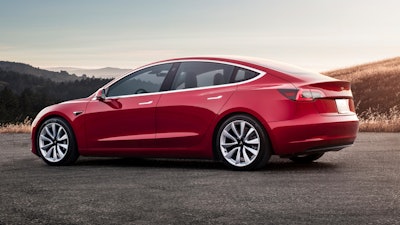 Tesla via AP
The Model 3 is Tesla's most affordable electric car, with a promised starting price of $35,000. Hundreds of thousands of Americans have put down a $1,000 deposit for one. Almost all of them are still waiting for the chance to order.
At Edmunds, however, we've purchased and taken delivery of one of the first Model 3s out. And we've driven it more than 3,000 miles so far.
It's not our first Tesla; we've previously bought and conducted 18-month tests of the Model S sedan and the Model X SUV. We've sampled most other electric vehicles on the market, too. Here's what we can say so far about living with our Tesla Model 3 sedan:
Service & Quality
We're going to get this out of the way first: Tesla's scramble to increase its Model 3 production seems to have adversely affected Model 3 build quality, at least on the basis of our tiny sample of one. Body panel gaps are inconsistent, reflecting a lack of attention to detail, and this applies not only to our own car but even to Model 3s we've seen on display.
After we brought ours home, we discovered it also had a cracked vanity mirror and a broken driver's seat shell. In our first six weeks, we've had to do the equivalent of a Windows PC's Ctrl-Alt-Del reboot of the all-important touchscreen about a dozen times.
We've called a Tesla service center about the problems but have had difficulty getting an appointment. Drive-ups were not welcome, so our parts were ordered based on photographs alone. Weeks later, we're still waiting for word and it's hard to get answers.
Touchscreens
The Model 3's minimalist interior is dominated by its huge central touchscreen. There are no gauges, no knobs and no switches except for door-mounted window controls. It looks clean and futuristic, but ease of use isn't as stellar.
Certain controls are accessed from a couple of multi-axis roller buttons on the steering wheel. For just about everything else, you'll be reaching for the touchscreen to access wiper controls, adjust cruise control speed, and even to switch between modes on the audio system. You get used to it, but this approach increases the chances of driver distraction.
The Model 3 doesn't play well with smartphones either. It lacks Apple CarPlay and Android Auto, two systems that easily integrate many of your phone's apps with the vehicle. And its USB ports cannot deliver any music, audiobook or podcast files from your phone to the audio system. The only way to listen to your media files is to stream them using Bluetooth audio.
Range is Appealing
Those issues aside, we enjoy driving the Model 3. It feels sorted and sporty when you're driving around turns, and the electric motor delivers plenty of thrust. It's dramatically quicker and more engaging to drive than other popular EVs such as the BMW i3 and the Chevrolet Bolt. That premium feel experienced in the Model S and the Model X is also present.
Currently, Tesla is only building rear-wheel-drive Model 3 sedans with the expensive 310-mile long-range battery. The smaller battery and its purported 220-mile range and $35,000 price are still some months away. Edmunds paid $56,000 for its fully loaded Model 3.
At first, we were ready to conclude it's not worth paying more for the big battery. In a regular gasoline car, 300 miles feels like a minimum because no one likes to stop for gas often. By contrast, you can charge an electric car at home every night, and at that point 220 miles is more than enough for daily use.
But there are reasons to go big. Of course, it's an advantage for those who drive farther than average or can't charge every day. But it also has to do with charging speed at Tesla's network of Superchargers. If you've got a Model 3 with the bigger battery, you won't need to spend as much time hooked up to a Supercharger station. Because charge rates slow down as batteries get closer to full, it actually takes less time to bring a 310-mile battery up to 200 miles of range — which is likely all you'll need to get to the next station — than doing the same with the smaller 220-mile battery. The difference could amount to 15 minutes or more per stop, which could really add up during an extended road trip.
Edmunds Says
Tesla does things differently, which is both a strength and a weakness. The new Model 3 sets a new standard for what an affordable electric vehicle can be. But initial problems highlight Tesla's inexperience with mass-market production.