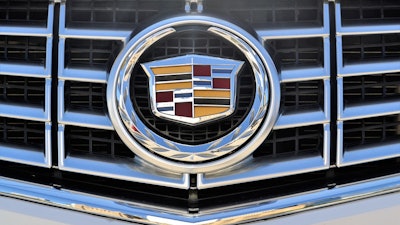 Pixabay
DETROIT (AP) — General Motors has replaced the head of its Cadillac luxury brand, which has struggled for years to compete against German and Japanese luxury automakers in the U.S.
The company says Steve Carlisle will replace Johan de Nysschen, who is leaving to pursue other opportunities.
Carlisle had been managing director of GM's Canadian operations.
De Nysschen was hired away from Nissan's Infiniti luxury brand with much promise and named president of Cadillac in August of 2014. A few months later he moved the brand's headquarters from Detroit to New York in an effort to give Cadillac more sophistication.
But the move didn't help with buyers. Although sales grew globally, they fell during his tenure in the U.S., GM's most lucrative market. Sales declined 8 percent last year and dropped another 4.6 percent through March.
Jessica Caldwell, senior analyst for the Edmunds.com car buying website, said de Nysschen bet heavily on the German luxury model of rolling out cars at a time when the market was shifting dramatically toward SUVs. (Edmunds regularly provides content, including automotive tips and reviews, for distribution by The Associated Press.)
In media interviews, de Nysschen talked about the shift coming, but Caldwell said the brand didn't move quickly enough to capitalize on it. Currently Cadillac has only two SUVs on sale, the full-size Escalade and the midsize XT5, with the compact XT4 coming in the fall.
"When you think about a market that's over half SUVs and you have two, it's not a good place to be," Caldwell said. "That was a pretty big miss from a financial standpoint."
According to GM, Carlisle led a resurgence of GM brands in Canada, where last year it was the top-seller of vehicles to individual retail buyers.
He'll report to GM President Dan Ammann, who said in a statement that the luxury car-buying world is changing rapidly. "It is paramount that we capitalize immediately on the opportunities that arise from this rate of change," Ammann said. "This move will further accelerate our efforts in that regard."