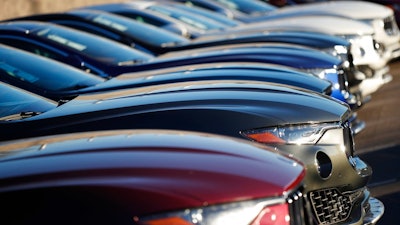 AP Photo/David Zalubowski
DETROIT (AP) — U.S. sales of new cars and trucks tailed off in February as automakers eased up on discounts.
Sales fell 2 percent from last February to 1.3 million, according to Autodata Corp. Among major automakers, only Toyota, Subaru and Volkswagen reported sales gains over last February.
Ford's U.S. sales chief Mark LaNeve said automakers spent an average of $65 less per vehicle on incentives in February compared to the same month last year. That's a stark contrast from 2017, when incentive spending often climbed $300 or $400 per month.
LaNeve said discounts could grow during the spring and summer, when tax returns arrive and more people shop for vehicles. But based on the first two months of this year, he expects automakers to remain fairly disciplined. In the past, heavy discounting has led to overproduction and steep declines in automakers' profits.
Here are some details regarding February sales:
— General Motors Co. sales fell just under 7 percent to 220,905. Sales were dragged down by the Chevrolet Silverado pickup truck, GM's top-selling vehicle. Silverado sales were off more than 16 percent from a year ago, when the company had record February sales of SUVs and pickup trucks. GMC and Chevrolet sales were down for the month but Buick and Cadillac sales rose.
— Ford Motor Co. sales also fell 7 percent to 194,132. Ford said its car and SUV sales were down but sales of the F-Series pickup — its biggest seller — inched up 3.5 percent. Ford brand sales were down 6 percent while luxury Lincoln sales plummeted 23 percent.
— Toyota Motor Corp. sales rose 4.5 percent to 182,195 vehicles. Sales of its top-seller, the Camry sedan, jumped 12 percent as an updated version went on sale. Luxury Lexus sales also rose 5 percent.
— Fiat Chrysler's sales fell 1 percent to 165,903. Jeep brand sales jumped 12 percent and Alfa Romeo sales were also up, but Ram truck sales fell 14 percent because of a drop in fleet buyers. Chrysler, Dodge and Fiat sales also fell on low consumer demand for cars.
— Nissan Motor Co. sales fell 4 percent to 129,930. Demand for Nissan cars fell 17 percent but truck and SUV sales were up 9 percent, led by the Rogue small SUV. Nissan's luxury Infiniti brand saw sales fall 7 percent.
— Honda Motor Co. sales fell 5 percent to 115,557. Sales of its best-seller, the CR-V SUV, dropped 19 percent despite a recent redesign. Luxury Acura sales were up 1 percent.
— Hyundai Motor Co. sales fell 13 percent to 46,095 as higher sales of SUVs failed to make up for declining car sales. Genesis luxury sales also slid 14 percent.
— Subaru brand sales rose 4 percent to 47,209. Sales of its newly redesigned Crosstrek SUV jumped 61 percent.
— Volkswagen brand sales rose 6 percent to 26,660. Volkswagen is introducing more SUVs as consumers shift away from cars; sales of its Touareg midsize SUV were up 14 percent in February.