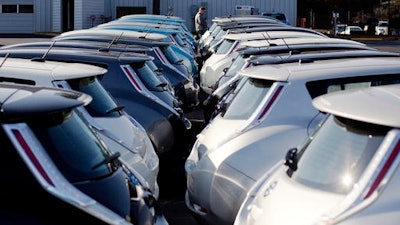 AP file
DETROIT (AP) — U.S. car buyers are tapping the brakes.
Sales of cars, trucks and SUVs fell 6 percent last month, to 1.54 million, according to AutoData Corp. It was the biggest monthly drop in nearly six years. The decline was unusual for May, a month when Americans typically buy cars ahead of summer road trips.
Most major automakers reported lower sales. General Motors' sales fell 18 percent, Ford's slipped 6 percent and Toyota's sales dropped 10 percent compared with the same month a year ago. Volkswagen's sales sank 17 percent. Fiat Chrysler and Subaru bucked the trend, with sales up 1 percent each, and Hyundai's sales jumped 12 percent.
The declines could be a sign that U.S. auto sales are finally reaching a plateau after six straight years of growth — a streak not seen since the 1920s. Sales rose 6 percent between 2014 and 2015 but are only up 1.2 percent so far this year.
The May results were enough for LMC Automotive, a forecasting firm, to lower its full-year sales prediction to 17.7 million, down from its previous target of 17.8 million.
Other analysts were quick to point out that even if sales have hit a plateau, they can still break last year's record of 17.5 million.
"The sky is not falling," said Michelle Krebs, a senior analyst with Autotrader.com.
Flattening sales could be good for consumers, at least in the short term. Automakers are offering more discounts in order to keep sales growing. Car-buying site TrueCar.com estimated that incentive spending rose 7 percent in May to average of $3,034 per vehicle.
But those discounts can hurt resale values and automakers' profits, so companies have to be careful as they deal with a dip in demand.
Shares of both GM and Ford fell around 3 percent Wednesday, reflecting investors' fears that the companies can no longer count on easy U.S. sales increases. GM's shares closed at $30.22 while Ford ended the day at $13.11.
This May also had one less weekend than last May, which could account for some of the decline. Ford said sales were strong over Memorial Day weekend.
At General Motors Co., the Chevrolet and Buick brands saw big declines. Sales of the Chevrolet Silverado pickup, the company's best-seller, dropped 13 percent. GM blamed tight supplies of new products, including the Chevrolet Cruze small car, as well as planned reductions in sales to rental car fleets. GM's rental car sales were down 49 percent.
Ford Motor Co. said sales of its F-Series pickup rose 9 percent and its luxury Lincoln brand saw a 7 percent sales increase. But that couldn't make up for a 26-percent decline in car sales. Ford's SUV sales were flat. Ford's overall sales dropped 6 percent to 235,997.
Toyota Motor Corp. said sales of cars dropped 16 percent while SUV and truck sales fell 2.5 percent. Sales of the Prius hybrid plummeted 36 percent.
Honda Motor Co. said sales fell 5 percent. Honda brand sales fell just 3 percent, and the HR-V subcompact SUV saw a 15 percent sales gain. But sales at the Acura division dropped 20 percent.
Nissan Motor Co.'s sales fell 1 percent to 133,496. Sales of Nissan and Infiniti trucks and SUVs rose 6 percent, but car sales fell.
Volkswagen brand sales dropped 17 percent to 28,779 as the fallout continues from the German automaker's diesel emissions cheating scandal.
Revamped SUVs helped Hyundai sales rise 12 percent to 71,006. Sales of the Santa Fe SUV more than doubled over last year.
Fiat Chrysler sold just over 204,000 vehicles for its best May in 11 years. The all-SUV Jeep brand led the way with sales up 14 percent. But Chrysler brand sales fell 19 percent as car sales faltered. Ram pickup sales fell 3 percent.
Subaru's sales also rose 1 percent to 50,083. Sales of its best-seller, the Forester SUV, were up 1 percent.