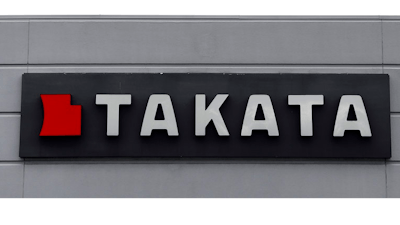 AP file
WILMINGTON, Del. (AP) — A Delaware judge has approved the bankruptcy reorganization plan submitted by Japanese auto-parts supplier Takata.
Following a hearing Friday, the judge said there was substantial and sufficient support from creditors to merit plan approval.
The ruling comes after Takata reached a settlement last week with creditor groups representing current and future victims of the company's lethally defective air bags, whose claims will be handled by a trust.
Takata was forced into bankruptcy last year amid lawsuits, multimillion-dollar fines and crushing recall costs involving air bag inflators that can explode with too much force, spewing shrapnel into drivers and passengers. The faulty inflators prompted the largest automotive recall in U.S. history.
Under the restructuring plan, Takata will sell most of its non-air bag assets to a Chinese-owned rival for $1.6 billion.