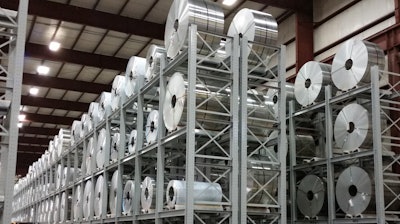 In the manufacturing world it's not uncommon to walk into a facility that handles heavy raw materials and find a familiar sight – large stacks of coils or bundled tubing stored on the floor, waiting to be retrieved and moved to another location in the plant for processing. Aside from potential safety issues, this common storage practice adversely affects many manufacturers' profitability due to issues with material damage, machine downtime and inefficient use of labor and space.
A solution to reducing losses and increasing productivity often begins with two simple questions:
How does your current storage system impact your own manufacturing efficiency?
What can you do differently to boost profitability and safety?
These might be simple questions, but the best storage solutions are often found this way. When facility managers and industrial professionals realize their heavy materials can easily be stored vertically and transported with a stacker crane system or narrow-aisle side-loader, it can be a transformative experience.
Keeping the "Continuous" in Continuous Improvement
Manufacturing output has been in growth mode in recent years, as seen in the Institute for Supply Management's (ISMs) Purchasing Managers Index (PMI), which recently reached its highest level since August 2014. While growth is good, it also intensifies operational pressure and exposes inefficiencies. We've heard from several companies that are looking for ways to minimize machine down time, streamline the flow of materials and optimize their just-in-time practices to meet production schedules and remain competitive.
This includes safely getting the right material to the right place at the right time—a goal that starts with knowing exactly where and how those products are going to be stored, even before they reach the plant.
To increase their competitive position, American steel mills, OEMs, toll processors, steel centers, and other industrial companies can benefit greatly by investing in modern storage solutions. In response, manufacturers have created a full range of options for storing all types of metals and equipment including coils, sheets, tubing, pipe, bar stock, tooling, dies and molds.
Picking the Right Solution
Because rack manufacturers design their systems using various engineering methods and materials, buyers should understand how these differences affect durability, loading capacity, and safety. Material handling is another key consideration, given that standard bridge cranes have limitations when it comes to interfacing with racks designed for certain products, such as coils and dies.
Some products, for example, are designed specifically for heavy-duty industrial storage applications, and therefore are manufactured with wide flange beams to offer significantly higher load capacities and improved durability compared to roll formed steel.
In addition, several specialty industrial storage products, including coil racks, tool & die racks and cantilever rack systems, are engineered using American Institute of Steel Construction's (AISC) standards. Coil and die racks can be engineered to include an integrated stacker crane, which is mounted on top of the racking to provide a turnkey system. Narrow aisle side-loaders can also be used successfully for vertically storing and retrieving large coils, dies and stacks of sheet metal.
These types of products offer manufacturers and distributors a number of tangible benefits to build upon in their efforts for continuous improvements, including:
Reduced machine downtime, because machines aren't waiting for materials to be located.
Improved material flow for the facility.
Greater use of vertical storage space.
Enhanced safety for workers.
Reduced chance of damage to delicate, coated or dent-prone materials.
If companies that want to stand out in the marketplace, enhance revenues, and reduce accidents, the first step is to conduct a thorough safety inspection. Assess current storage techniques, explore what's being stored where, and talk to facility supervisors about how much time they spend walking around, looking for equipment and products. Only then will manufacturers know where they truly stand in regards to safe and efficient material handling and storage.
Tracy Buck is an Industrial Storage Sales Engineer with Ross Technology.