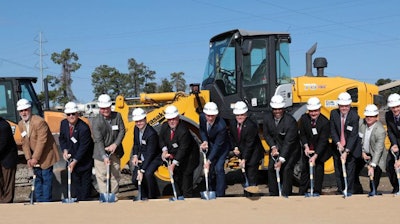 Twitter, @entergyLA
WESTLAKE, La. (AP) — Government officials and executives of the Entergy utility corporation gathered in southwest Louisiana to break ground for an $872 million natural gas-fired generating station.
The governor's office says the Entergy Louisiana project will employ about 700 people in Calcasieu Parish at the peak of construction. It is expected to create 31 permanent jobs.
Entergy says in a Monday news release that the Lake Charles Power Station will lower customer energy costs between $1.3 billion and $2 billion over the plant's anticipated 30-year life. The company also says the facility, called a "combined cycle" unit, will cut carbon dioxide emissions by 40 percent, compared to Entergy's older gas-fired plants.