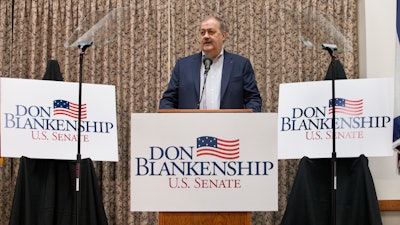 AP Photo/Steve Helber
LOGAN, W.Va. (AP) — A former coal company CEO who went to prison for charges stemming from the deadliest U.S. mine disaster in decades kicked off his U.S. Senate campaigning Thursday, seeking to persuade a largely working class audience that he identified with them. But one father present whose son died in the 2010 tragedy called the GOP businessman's jump into politics "more of a slap in our face."
Ex-Massey Energy boss Don Blankenship received several ovations from more than 100 supporters who heartily clapped at his town hall-style event, where the Republican candidate declared avid support for pro-coal President Donald Trump and signaled he was aligned with West Virginia's hard-working electorate.
"I may leave here tonight in a little fancier car," Blankenship told those gathered at a conference center in the city of Logan. "But we come from the same place, and I have not forgotten."
Men and women in white T-shirts reading "Blankenship" and "U.S. Senate" beneath an American flag applauded repeatedly as he talked of jobs creation and of aligning with Trump and a Republican-led state Legislature in improving West Virginia's sagging coal economy.
The campaign kickoff event Thursday night drew no protesters. But Robert Atkins, the man in the audience whose 25-year-old son Jason was killed in the 2010 Upper Big Branch mine explosion along with 28 others, said the Senate bid has brought up bitter memories for his family.
Atkins sat to one side of an auditorium in Logan as Blankenship spoke and told The Associated Press that the candidacy was "more of a slap in our face."
Blankenship will face U.S. Rep. Evan Jenkins and West Virginia Attorney General Patrick Morrisey in the May 8 GOP primary. Democratic Sen. Joe Manchin is seeking re-election. Blankenship said having a pro-coal president and a Republican-controlled Legislature gives West Virginia job creation and other economic opportunities "we cannot afford to miss."
The 67-year-old Blankenship was released from a federal prison in California last year after serving a one-year term. He was sentenced in 2016 for a misdemeanor conviction of conspiring to violate federal mine safety standards at Massey's Upper Big Branch Mine in southern West Virginia.
Manchin, who was West Virginia's governor during the time of the mine explosion, has said he hoped Blankenship would "disappear from the public eye" after his prison release.
Last year, Blankenship was released from a federal prison in California. He is currently serving one year of supervised release scheduled to end on May 9 — one day after West Virginia's Senate primary.
Blankenship received approval last August to have his supervised release transferred to federal officials in Nevada, where he has a home in Las Vegas.
The U.S. Supreme Court has rejected Blankenship's bid to appeal. He has insisted he's innocent, and that natural gas and not methane gas and excess coal dust caused the explosion at the Upper Big Branch Mine. He also has blamed Manchin for helping create the public sentiment against him and challenged the senator to a debate.
Among the first to show up at Thursday's Senate kickoff event was retired federal mine safety inspector Doug Smith, a registered Republican living in West Virginia and a Blankenship supporter. Smith said his wife told him about the meeting after seeing it on social media.
"I think he would sure beat what we've got in there right now," Smith said, referring to Manchin.