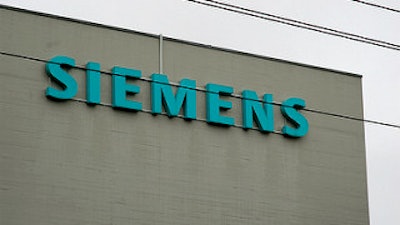 BERLIN (AP) — Industrial conglomerate Siemens has announced plans to cut about 6,900 jobs worldwide at its power, gas and drives divisions, half of them in Germany.
Munich-based Siemens said Thursday that it plans to cut the jobs "over a period of several years." The company had said when it presented its quarterly earnings last week that profit at its power and gas unit had declined sharply and it expected "painful cuts" in that business.
Siemens board member Lisa Davis said that "the power generation industry is experiencing disruption of unprecedented scope and speed," with renewable energy sources placing "increasing pressure" on other forms of electricity generation.
Siemens had about 372,000 employees worldwide at the end of September.