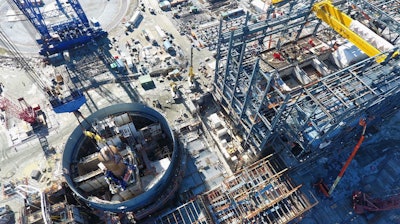 SCE&G
COLUMBIA, S.C. (AP) — The leader of a second South Carolina utility involved in a failed $9 billion project to build two nuclear reactors is stepping aside.
SCANA announced Tuesday that Kevin Marsh is retiring as chairman and CEO of the company and its subsidiary, South Carolina Electric & Gas, at the end of the year. He joins Santee Cooper CEO Lonnie Carter as both men were allowed to leave without being fired.
Lawmakers and others had been putting pressure on both companies to make leadership changes since SCANA and state-owned utility Santee Cooper announced they were abandoning construction of the reactors July 31.
SCANA Chief Financial Officer Jimmy Addison will become the utility's new CEO on Jan. 1. The utility's Senior Vice President Stephen Byrne also is retiring at the same time.
In SCANA's news release announcing its moves, Marsh mentioned only that it has been an honor to work for the utility since 1984 and its CEO for the past six years. The statement leaves Addison and Keller Kissam, who will be SCE&G's new president, to talk about the "challenging time" for the company.
"It pains me that SCE&G and its customers have had to go through this tumultuous time relating to the abandonment of the new nuclear project. It is essential for our customers and our employees that we reach a prompt, reasonable resolution of those issues," Kissam said in the statement.
March's retirement was announced a day after South Carolina House Speaker Jay Lucas demanded Marsh step down because lawmakers and ratepayers had lost faith in him, adding in a statement that Marsh "cannot be trusted to promote or protect its consumers' interests." The Speaker said Tuesday that Marsh should have left months ago.
Gov. Henry McMaster said Marsh's retirement shows SCANA finally understands the consequences of mismanaging the construction of the two reactors at the V.C. Summer plant north of Columbia.
"Any effort to regain the public's trust starts with no longer charging ratepayers for this failed project, and refunding them the money they've already paid for it," McMaster said.
A special panel of House members is working this week on a plan to return money to ratepayers. The House Utility Ratepayer Protection Committee is drafting several bills for lawmakers to consider when they return to the Statehouse in January.
The committee agreed Monday any bill needs to order SCANA to stop charging its customers $37 million a month — or about $27 for each ratepayer — to pay for the reactors that aren't being built.
Committee members also discussed changing the 2007 law that allowed SCANA and Santee Cooper to charge their customers for the nuclear plants long before a single watt of power was generated.
Lawmakers acknowledged whatever action they take may end in a lawsuit, but said they are trying to protect ratepayers.
"What we are doing right now is responding to a crisis," said Democratic Rep. Russell Ott from St. Matthews.