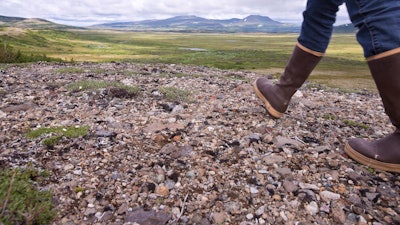 The Pebble Partnership
JUNEAU, Alaska (AP) — A company behind a stalled attempt to develop a copper and gold mine near a major salmon fishery in Alaska has unveiled plans for what it says will be a smaller, safer project.
Pebble Limited Partnership announced Thursday that it wants to reintroduce a project that for years has been the subject of fierce debate because of its location in the Bristol Bay area of southwest Alaska and its potential impacts on fish.
Under the Obama administration, the U.S. Environmental Protection Agency proposed restrictions on development, but those limits were never finalized while Pebble and the EPA fought in court.
As part of a legal settlement earlier this year, the EPA under President Donald Trump pledged to initiate a process for withdrawing the proposed restrictions. Public comment is now being taken on that issue.
Critics of Pebble, who say the Bristol Bay region is not the place for the mine, worry that the revamped project might only be a starting point for a larger operation in years to come.
"This is just a wolf in a sheep's clothing," Alannah Hurley, executive director of the United Tribes of Bristol Bay, said in a statement.
Pebble compared its proposed plan to scenarios analyzed by the EPA and said the footprint for major mine facilities, such as a tailings storage facility and pit, would cover about 5.4 square miles (13.99 sq. kilometers).
Pebble spokesman Mike Heatwole said that would put the project "within striking distance" of the smallest footprint EPA analyzed in proposing the restrictions.
Pebble said the entire project footprint would cover 12.7 square miles (32.89 sq. kilometers).
Heatwole said Friday that the project has proposed ways to reduce the potential impact on fish. Additional steps are being proposed to minimize wetland impacts and address other concerns, according to Northern Dynasty Minerals Ltd., which owns the Pebble partnership.
With respect to earthquakes, the company says the mine would be designed to withstand "the greatest possible seismicity predicted by science."
Heatwole said the project being considered would operate for 20 years.
Pebble plans to submit a permit application to the U.S. Army Corps of Engineers in December.
Hurley sees Pebble's new plan as a marketing ploy and an attempt to rebrand the controversial project and woo a new partner.
"At the end of the day, Pebble cannot be developed in Bristol Bay without impacting fish. And no matter what they do to try and disguise that, we're not falling for it," she said in an interview.
She also points to what she sees as contradictory statements by mine officials. She noted recent comments by Ron Thiessen, Northern Dynasty Minerals' president and CEO, who has called the project a "multigenerational opportunity."
Heatwole said Pebble does not have plans beyond what it has outlined. Any future development would require another permitting process, he said.