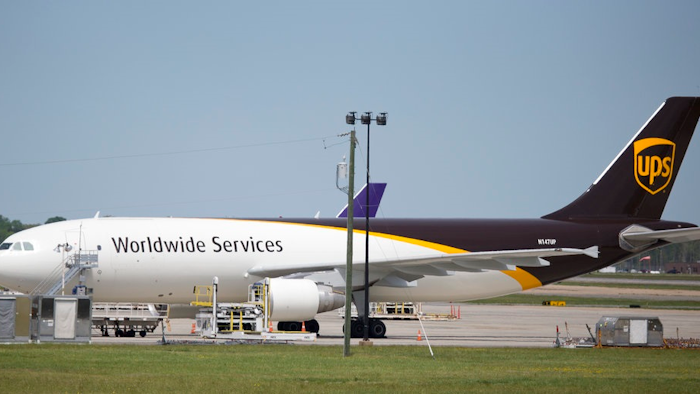 AP Photo/Steve Helber
ATLANTA (AP) — UPS suspects that one of its employees obtained secret business plans for its aircraft fleet and then posted them online, the shipping giant said in court records.
In a federal lawsuit filed this week, UPS said its strategic plans are highly confidential, and that a PowerPoint presentation containing the trade secrets was created and intended only for senior executives.
"At some point, an unknown UPS pilot wrongfully obtained a copy of the PowerPoint," UPS states in its lawsuit. Then, in late September, "the unknown UPS pilot posted statements on an online discussion forum about UPS' confidential strategic plans regarding its aircraft."
Now, the company is taking steps to identify whoever was responsible for posting the strategic plans on an internet message board frequented by pilots.
A judge this week gave the company permission to subpoena records from Yahoo Holdings Inc. for emails from a specific Yahoo.com email address. It's requesting all emails sent to and from the address since Aug. 31.
UPS also plans to subpoena records from the Louisville, Kentucky-based Independent Pilots Association in order to get names, IP addresses and other information about people who made comments about the plans on the union's internet forum. It's also seeking information to identify anyone who clicked on a link to view the information.
A spokesman for the pilots association said it will resist UPS' effort to get information about its members.
"We have no reason to believe that any UPS union pilot was involved in the theft," Brian Gaudet, a spokesman for the Independent Pilots Association, said in an email Friday.
The lawsuit blames "an unknown UPS pilot" for taking the information, but UPS spokesman Steve Gaut said Friday it doesn't know for certain who is responsible. The company presumes he or she was a pilot because pilots frequent the online forums where the information was posted, he said.
Separately, the company is also seeking information about people who posted on another internet site, airlinepilotcentral.com , with the user names "Commando," ''UPSet," and "nightrider," court records state.
The company filed the lawsuit in order to find out who obtained the plans and posted them online, Gaut said.
"We know for certain that the presentation in question was inappropriately removed from the company," Gaut said. "And we know the information was inappropriately displayed in public internet forums."
There are no plans to pursue criminal charges, Gaut said, adding that the company's goal is to find out who posted the information.