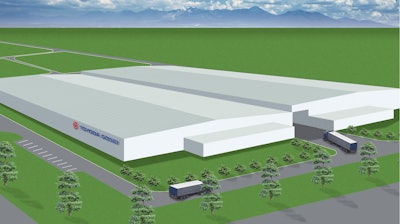 Toyoda Gosei
Toyoda Gosei will establish a new plant in Vietnam to meet growing demand for airbags as safety regulations become more stringent in regions around the world.
The new plant will be established as a branch plant of Toyoda Gosei subsidiary Toyoda Gosei Haiphong Co., Ltd. (TGHP), and will start production of airbag parts and steering wheels in July 2019 for export to final airbag assembly plants in Japan, North America, Europe, and other regions.
The investment for the new plant is $24.6 million, and construction will start in March 2018.
Airbags and other safety system products are a key business segment for Toyoda Gosei, and the company is moving to strengthen its production capacities for these products globally.
Annual production capacity for these products in Vietnam was 14.5 million airbag parts and 2.2 million steering wheels in FY2016. The company plans to increase this to 23 million airbag parts and 3.2 million steering wheels by FY2023.
About the New Plant
Location: Tien Hai Industrial Park, Thai Binh Province, Socialist Republic of Vietnam
Start of production: July 2019
Products: Safety systems (airbag parts, steering wheels)
Area

Land: ~113,000 m2
Building: ~20,800 m2

Employees: ~1,000 (as of March 31, 2021)