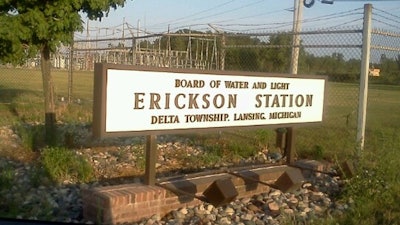 Board of Water & Light Erickson Station, Foursquare
LANSING, Mich. (AP) — A coal-burning power plant in central Michigan is expected to go offline by 2025.
The planned retirement of Delta Township's Erickson Power Plant is part of an agreement between the Lansing Board of Water & Light made and the Sierra Club, an environmental group.
The utility also made plans in 2015 to retire the coal-burning Eckert Power Plant in Lansing by 2020, the Lansing State Journal reported . Its website said the two plants create more than 500 megawatts of power combined.
Regina Strong, director of the Sierra Club's Beyond Clean Coal Campaign, said the group planned to sue the utility for environmental violations at the plants before the agreement was made.
Strong said closing the Erickson plant is long overdue.
"I think this is an opportunity for them (the utility) to do the right thing, something we've been trying to get them to do all along," Strong said.
Utility spokesman Stephen Serkaian said the utility plans to replace the plant with a mix of renewable energy, energy efficiency and natural gas.
The utility's plans call for 30 percent clean energy by the end of 2020 and 40 percent by 2030. Serkaian said expansion of the utility's clean energy portfolio and the plants' closures will help the utility achieve an 80 percent reduction in its greenhouse gas emissions by 2030.
Michigan has about 20 coal-burning power plants left. Delta Township Supervisor Ken Fletcher said he looks forward to Erickson's closure.
"Definitely the sooner you can shut down these coal-burning plants the better off we're all going to be," he said.