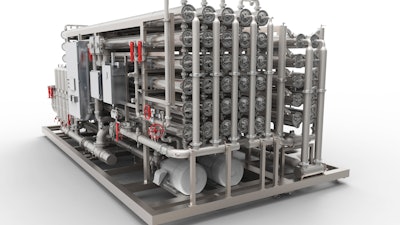 GE
GE today introduced BEVPAK, a new ultrafiltration (UF) and reverse osmosis (RO) solution for water treatment in the production of beverages.
GE Water & Process Technologies' new, integrated UF and RO technology is designed to process poor quality and challenging source water with optimal removal of particulates, microorganisms and total dissolved solids (TDS) while reducing the footprint and lowering costs.
BEVPAK technology incorporates GE's ZeeWeed 700B horizontal-designed, inside-out UF membranes with GE's BEV Series RO technology, delivering beverage producers a distinctive product that provides quality, reliability and ease of operation, smaller footprint, installation simplicity and monitoring capabilities.
BEVPAK is ideal for solids tolerance and ingredient water production, and it simplifies the process and removes equipment needed for air scouring.
Using SevenBore fiber technology, ZeeWeed 700B are blended polyethersulphone membranes, which allow the membrane to stay permanently hydrophilic and reduce the fouling tendency.
When compared to granular filter media and cartridge filters, the ZeeWeed 700B membrane produces superior water quality and is virtually unaffected by variable raw water quality. The BEV Series RO technology is specifically designed for production of ingredient water for carbonated soft drinks, juices, bottled water and non-carbonated beverages.
BEVPAK's key features include:
Multibarrier process with NSF-certified membrane elements to meet required product specifications.
Materials of construction and system design to allow sanitization of ingredient water contact surfaces.
UF offers higher quality feedwater to the RO, which improves reliability and increases the RO system uptime even with highly variable raw water quality.
Reduce chemical cleaning frequency and membrane replacement frequency caused by fouling.
Installation simplicity with preconfigured pretreatment, pumps, piping and electrical systems greatly reduce technical skill and time required for installation.
Internet connectivity allows remote monitoring, after-hours diagnostics and troubleshooting.
BEVPAK now is commercially available, and a few major beverage companies already have implemented the system at their facilities.
It is manufactured at Water & Process Technologies' Minnetonka, Minnesota, facility.
The plant produces filters, spiral wound membrane elements and equipment across the spectrum of membranes including RO, nanofiltration, UF and microfiltration for global water treatment and reuse.