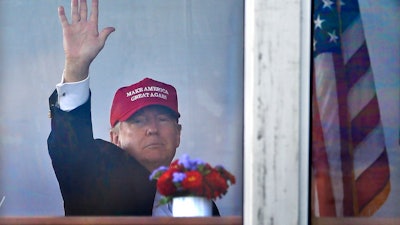 AP Photo/Seth Wenig
PISCATAWAY TOWNSHIP, New Jersey (AP) — Plagued by daily revelations related to the escalating Russia investigations, the White House is dubbing the coming week "Made in America week" as it tries to focus on issues that matter to the president's base.
Speaking to reporters at a hotel near President Donald Trump's golf course in Bedminster, New Jersey, White House director of media affairs Helen Aguirre Ferre said Sunday that the White House will be hosting a "Made in America" product showcase Monday featuring products from all 50 states.
The president also is expected to issue a proclamation Wednesday on the importance of making goods in America, and will travel to Virginia on Saturday for the commissioning of the USS Gerald R. Ford, a new aircraft carrier.
"For too long our government has forgotten the American worker. Their interests were pushed aside for global projects and their wealth was taken from the communities and shipped overseas," said Ferre. "Under the leadership of President Donald Trump, not only will the American worker never be forgotten, but they will be championed."
Trump has pledged to bring back U.S. manufacturing jobs lost to technological innovation and outsourcing by scaling back regulations and renegotiating the country's trade deals. It's an issue that resonates with the president's base, and one that senior aides sought to highlight Sunday as the president spent the weekend attending the U.S. Women's Open golf championship at a course he owns.
The effort comes amid escalating inquiries into possible ties between Trump campaign aides and the Russian government, which intelligence agencies have concluded meddled in the 2016 election in an effort to help Trump win.
But critics have accused Trump of hypocrisy when he's pushed "Made in America" in the past because so many of the products he and his family members have sold over the years were manufactured overseas. That includes merchandise sold under his own name and his eldest daughter's, including clothing items and shoes.
Asked whether the president would use his "Made in America" week to commit the Trump organization and his daughter's brand to make more of their products in America, rather than overseas, Ferre was non-committal.
"We'll get back to you on that," she said.
The president's financial assets are currently being held in a trust. Ivanka Trump stepped back from day-to-day management of her brand before taking on an official role as a White House adviser.