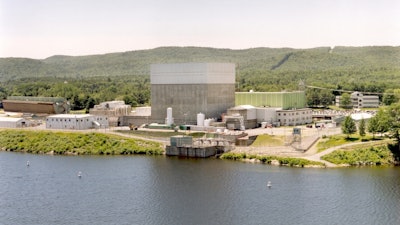 United States Nuclear Regulatory Comission
VERNON, Vt. (AP) — A senior radiation protection technician at the closed Vermont Yankee nuclear power plant deliberately falsified safety records and failed to check workers for radiation exposure for eight months last year, according to the Nuclear Regulatory Commission.
In a violation order issued Monday, the NRC said the now-former Entergy Nuclear technician failed to test employees who were working the night shift for radiation exposure from January to September 2016.
The NRC said the violation was considered low-level, but the agency increased the significance of it because the deception had been "deliberate" and "willful" and because Entergy did not discover the problem itself and report it, according to the Rutland Herald.
Those night-shift workers were not tested for four days out of the week, the NRC said. When a second safety technician was on duty the night shift workers were tested as required, the NRC said.
It's unclear how many workers were involved, but employment at the nuclear reactor decreased sharply when it stopped generating electricity in late 2014.
An Entergy spokesman would not answer questions about the violation and issued a company statement saying Entergy would respond to the investigation findings.
"We are reviewing the Notice of Violation and, as instructed by the NRC's letter, will be providing a response to the NRC no later than July 26, 2017," Entergy said.