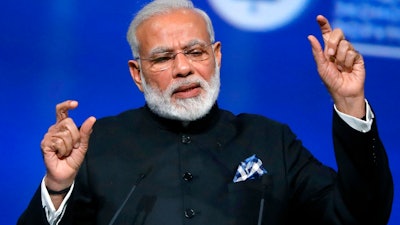 Mikhail Metzel/TASS News Agency Pool Photo via AP
WASHINGTON (AP) — The Trump administration has authorized the sale of unarmed surveillance drones to India, the manufacturer said Friday, as the two nations' leaders prepare for their first face-to-face meeting.
India initiated its request to buy 22 Guardian MQ-9B unmanned aircraft for maritime surveillance last year. The deal is estimated to be worth about $2 billion. The offer is still subject to congressional approval.
The green light from the administration marks a further deepening in defense ties as India's Prime Minister Narendra Modi meets with President Donald Trump at the White House on Monday.
Modi's two-day visit to Washington, which starts Sunday, takes place amid uncertainty over the relationship because of differences on trade and other issues.
So far in his presidency, Trump has focused on outreach to China, India's strategic rival, as he looks to Beijing to rein in North Korea. But Washington and New Delhi share concerns about China's rise as a military power.
India reportedly wants the drones for surveillance of the Indian Ocean — waters that China's navy increasingly traverses after establishing its first overseas base in the Horn of Africa nation of Djibouti. India's archrival Pakistan would also likely be opposed to the drone sale.
"We are pleased that the U.S. government has cleared the way for the sale of the MQ-9B Guardian to the Indian government," Linden Blue, CEO of the manufacturer, General Atomics Aeronautical Systems, said in a statement. Blue added that it would "significantly enhance India's sovereign maritime domain awareness in the Indo-Pacific."
A congressional staffer familiar with the matter confirmed the administration has approved the sale. The staffer was not authorized to discuss the potential deal and requested anonymity.
David McKeeby, spokesman for the State Department bureau of political-military affairs, said it does not comment on proposed defense sales before Congress is formally notified.
A senior White House official said Friday that the U.S. is interested in providing India the kind of high technology it provides to its closest allies and defense partners. That is important to the strategic partnership and for cooperation in areas like the Indian Ocean, and also creates U.S. jobs, said the official, who requested anonymity to brief reporters on the preparations for Modi's visit.
India does not have a formal alliance with the U.S., but defense ties have intensified in recent years with joint drills between the two militaries and defense sales. The South Asian nation, which has traditionally bought most of its defense equipment from Russia, is looking to upgrade its capabilities.
Since 2008, India has signed more than $15 billion in U.S. defense contracts, including for C-130J and C-17 transport aircraft, P-8I maritime patrol aircraft, Harpoon missiles and Apache and Chinook helicopters.