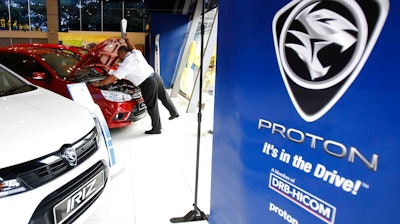 AP Photo/Daniel Chan
KUALA LUMPUR, Malaysia (AP) — The Chinese owner of Sweden's Volvo Cars will inject $40 million into Malaysia's Proton as part of its purchase of a key stake in the automaker, an executive of the Malaysian company said Friday.
Geely Holding Group is also paying $65 million for 51 percent of Proton-owned British sports car maker Lotus.
Geely and Proton earlier signed the final agreement to acquire 49.9 percent of Proton, in a deal announced in March that gives the Chinese company a platform to expand in Southeast Asia, where non-Japanese brands have struggled.
Geely will bring its Boyue SUV platform, estimated to cost 290 million ringgit ($67.6 million) to Malaysia as part of its acquisition, DRB-HICOM group managing director Syed Faisal Albar told a news conference. Proton will also assemble Volvo cars for Geely, he said.
Proton Holdings Berhad was founded in 1983 by the Malaysian government to create a domestic auto brand and has a distribution network in key Southeast Asian markets. Its sales have suffered due to growing competition and a reputation for poor quality and bland models. Proton was privatized in 2012 but its new owner, conglomerate DRB-HICOM Berhad, was unable to revive the carmaker.
DRB-HICOM will retain 50.1 percent stake in Proton.
Geely chairman Li Shufu said the company's priority will be to turn around both Proton and Lotus and put them on a sustainable growth path. But he warned their revival will be difficult in a highly competitive market.
"We will work together for the resurrection of Proton in Southeast Asia ... we believe it won't be long before we achieve profitability," he said.
Li also said Geely will make Malaysia a manufacturing hub for right-hand drive vehicles for its global sales.
Geely is one of China's biggest independent auto brands. Founded in 1986 as a refrigerator manufacturer, it started producing motorcycles in the 1990s and launched its first car in 2002. It bought Volvo from Ford Motor Co. in 2010.
The Chinese automaker said earlier the Proton deal would strengthen its global footprint and develop a beachhead in Southeast Asia.
The deal also marked a turning point in Malaysia's auto policy. The government has long resisted efforts to sell off any key stake in Proton, seen as a national icon.
Prime Minister Najib Razak said Proton has been "hobbled by an out-of-date, inward looking and commercially unworkable idea of what constitutes success for a national carmaker." Last year, Proton sold only 72,000 units, giving it barely 12 percent share of the domestic market, he said. The government also had to give a 1.5 billion ringgit loan ($350 million) to help sustain Proton, he said.
"This is the beginning of a new era for Proton... we want to expand its footprint in the region," he added.