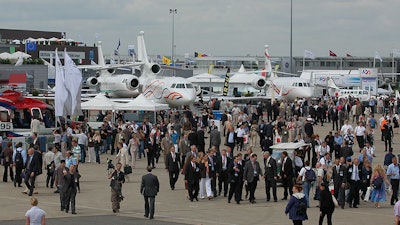 PARIS (AP) — The latest news from the Paris Air Show from Boeing and Airbus. Boeing has apparently landed a string of new plane deals while Airbus has won lucrative promises. Both plane makers have stressed the growing importance of digital technology in aviation.
Boeing:
Announced firm orders for more than 45 planes worth $5.4 billion from Ryanair, China's Okay Airways and the Aviation Capital Group leasing company.
Took in tentative orders for a further 83 planes worth as much as $9.3 billion.
Forecast big growth demand for technology and data to guide aviation industry decisions.

Airbus:
Said it had pledges for 95 jets worth up to $10.4 billion at list prices.
Most of the orders were for single-aisle jets.
Launched a new digital platform.
The head of the U.S. Federal Aviation Administration says the boom in drone popularity is "a huge game changer" similar "to powered flight or jet engines." In an Associated Press interview Tuesday, Michael Huerta said "the growth of this industry and how it's evolving is something that all of us in aviation need to pay a lot of attention to."