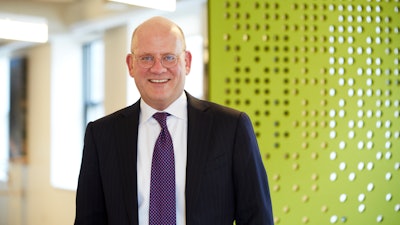 John Flannery, current president and CEO of GE Healthcare, has been named CEO of GE effective August 1, 2017. Jeff Immelt, Chairman and CEO, will remain Chairman of the Board through his retirement from the company on December 31, 2017. Flannery will be GE Chairman and CEO effective January 1, 2018.
"John is the right person to lead GE today," said Immelt. "He has broad experience across multiple businesses, cycles and geographies. He has a track record of success and led one of our most essential businesses. Most important are his strong leadership traits – good judgment, resilience, a learner, team builder and a tough-minded individual and competitor. He will be trusted by investors, our customers and the GE team."
In addition to Flannery's appointment, GE CFO Jeff Bornstein has been promoted to vice chair of GE, and GE President and CEO of GE Healthcare Life Sciences Kieran Murphy has been promoted to president and CEO of GE Healthcare.
Flannery, 55, began his GE career within the company's financial arm in 1987. Since then, he has spent almost half of his career living outside of the U.S., leading several businesses including GE Healthcare, GE's presence in India, and the company's business development team through the successful acquisition of Alstom's energy and grid businesses.
He also helped manage GE Capital's $200 billion exit strategy, the Synchrony Financial IPO in 2014, and the disposition of GE Appliances, which closed in 2016.
In 2005, Flannery led GE Capital's presence in the Asia Pacific region, where he grew earnings in Japan by 100 percent, in Korea by 30 percent, and in Australia by 25 percent. In 2009, he moved to India to lead GE's presence in the country, upgrading the leadership team and building the culture for the company. In 2011, he increased industrial sales by 50 percent in India.
Since 2014, Flannery has led the turnaround of GE Healthcare, positioning the business as a technology leader in core imaging, digital platforms and solutions, Life Sciences and cell therapy, and launching Sustainable Healthcare Solutions, which is focused on bringing disruptive technologies to healthcare providers across emerging markets. In 2016, he increased organic revenue by five percent and margins by 100 basis points.
"Today's announcement is the greatest honor of my career," Flannery said. "I am privileged to have spent the last 16 years at the company working for Jeff, one of the greatest business leaders of our time. He has transformed the GE portfolio, globalized the company and created a vision for the GE of the future by positioning the company to lead in digital and additive manufacturing. In the next few months, my focus will be on listening to investors, customers and employees to determine the next steps for GE."
Immelt led the successful transformation of GE into a simpler, stronger and more focused digital industrial portfolio aligned to key markets – power, aviation, transportation, healthcare and oil & gas. Under his leadership, GE completed $260 billion of asset sales for GE Capital since 2015, acquired global energy leader Alstom, announced the combination of GE Oil & Gas with Baker Hughes, and divested legacy businesses like GE Appliances, NBC Universal and GE Plastics.
In addition, Immelt grew GE's $320 billion backlog and built the GE Store, leveraging the company's scale to drive growth, reaching $70 billion in global orders and more than $55 billion in services orders. GE nearly doubled its industrial profit during his tenure, and operating EPS was up approximately 50 percent. While CEO, GE returned $143 billion to investors in dividends, more than in the entire prior history of the company.