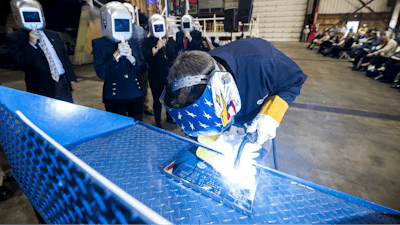 Lockheed Martin
The Lockheed Martin-led industry team officially laid the keel for the U.S. Navy's 19th Littoral Combat Ship (LCS), the future USS St. Louis, in a ceremony held at Fincantieri Marinette Marine in Marinette, Wisconsin.
Ship sponsor Barbara Broadhurst Taylor completed the time-honored tradition and authenticated the keel by welding her initials onto a steel plate that will be placed in the hull of the ship.
The Lockheed Martin-led industry team is currently in full-rate production of the Freedom-variant of the LCS, and has delivered four ships to the U.S. Navy to date. The future USS St. Louis is one of seven ships in various stages of construction at Fincantieri Marinette Marine, with two more in long-lead production.
LCS 19 will be the seventh ship to bear the name USS St. Louis. The first St. Louis, a sloop of war, was launched in 1828. Other ships to bear the name included an ironclad gunboat commissioned in 1862, a troop transport commissioned in 1898, a protected cruiser in commission from 1906 to 1922, a light cruiser commissioned in 1939, and, most recently, a Charleston-class amphibious cargo ship in service from 1969 to 1991.
The Lockheed Martin-led LCS team is comprised of shipbuilder Fincantieri Marinette Marine, naval architect Gibbs & Cox, and more than 800 suppliers in 42 states. The Freedom-variant's steel monohull design is based on a proven, resilient design recognized for its stability and reliability.
Costing less than a third of a brand new Arleigh Burke-class destroyer, the Littoral Combat Ship is the Navy's most affordable surface combatant shipbuilding program and the ideal platform to grow the U.S. Navy fleet quickly and affordably.
For additional information, visit our website: www.lockheedmartin.com/lcs