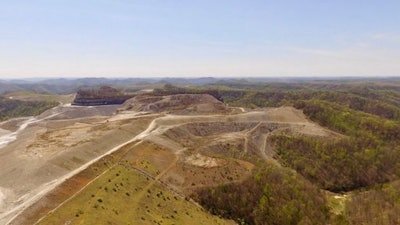 Kenny Stanley/Berkeley Energy Group via AP
FRANKFORT, Ky. (AP) — A former strip mine would be converted into a solar farm under a proposal announced Tuesday by an Appalachian coal company that says it wants to place hundreds of thousands of panels in the Kentucky mountains.
The Berkeley Energy Group, EDF Renewable Energy and former Democratic state Auditor Adam Edelen said they are looking at two mountaintop removal sites just outside of Pikeville in the heart of Kentucky's coal country.
It's the latest example of efforts to diversify the energy output of the nation's third-largest coal producing state, which has been hit hard by the economic impact of the declining coal industry. Last month, the state legislature voted to end the state's decades-long moratorium on nuclear energy. And earlier this month, the Kentucky Coal Museum installed solar panels on its roof.
"We can build solar on the foundation of coal," Edelen said. "Kentucky has long been an energy producer that has powered the entire country. There's no reason why we can't continue to be that, but we have to adopt an all of the above energy strategy."
Kentucky still gets more than 80 percent of its electricity from coal-fired power plants. But that percentage has been dropping steadily as coal plants are being replaced by natural gas.
The largest solar farm in Kentucky is based at Louisville Gas & Electric's E.W. Brown Plant in Mercer County. The 10-megawatt array of solar panels stretched over 50 acres produces enough electricity to power 1,500 homes.
Berkeley Energy Group Development Executive Ryan Johns said the proposed solar farm would generate between 50 and 100 megawatts of electricity that would be sold to power companies along the East Coast. He said the project would cost tens of millions of dollars and include "hundreds of thousands" of solar panels.
He said the strip mines under consideration cover thousands of acres. The company is doing engineering and cost studies on the sites to evaluate them for the new purpose.
The coal was mined using "mountaintop removal," a surface coal mining technique that uses blasting and heavy machinery to remove layers of dirt and rock to reach coal seams.
Most of the jobs associated with the project would come during the construction phase, but Edelen said officials at EDF Renewable Energy have pledged to hire as many former coal miners for the work as they can.
Eastern Kentucky is filled with former coal mines that are being redeveloped for various purposes, including golf courses and housing developments. Tyler White, president of the Kentucky Coal Association, said the proposed solar farm would likely not be possible if it weren't for "subsidies of this sort of energy," including federal tax credits.
"Coal has had the cards stacked against it for the last eight years," he said. "We need to start rolling back policies that essentially pick the winners and losers."