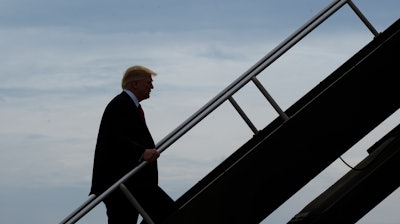 AP Photo/Susan Walsh
WASHINGTON (AP) — President Donald Trump is still deliberating whether to keep the U.S. in an international agreement to reduce climate-warming carbon emissions, even though he has called climate change a hoax.
The White House postponed a meeting Tuesday where top aides were to have hashed out differences on what to do about the non-binding international deal forged in Paris in December 2015. The agreement allowed rich and poor countries to set their own goals to reduce carbon dioxide and went into effect last November, after the U.S., China and other countries ratified it.
Not all of Trump's advisers share his skeptical views on climate change — or the Paris pact.
Secretary of State Rex Tillerson said at his Senate confirmation hearing in January that he supports staying in the deal. However, Environmental Protection Agency Administrator Scott Pruitt, said last week that the Paris pact "is a bad deal for America."
Officials had planned to discuss options on Tuesday, with the goal of providing a recommendation to Trump, according to an administration official who spoke on condition of anonymity despite the president's criticism of the use of anonymous sources.
Spokeswoman Sarah Huckabee Sanders blamed the postponement of the meeting on scheduling conflicts among advisers who were expected to attend. Some of them, she said, wanted to accompany the president on his trip to Wisconsin on Tuesday, and the White House decided to reschedule its internal climate talks.
Trump pledged during the presidential campaign to pull out of the Paris accord, but has wavered on the issue since he won the presidency.
He told the editorial board of The New York Times in an interview last year that he was "looking at it very closely.... I have an open mind to it. We're going to look very carefully."
Yet some of his aides, including Pruitt, see the deal as standing in opposition to Trump's "America first" mantra.
"Paris is something that we need to really look at closely, because it's something we need to exit, in my opinion," Pruitt said in an interview last week with Fox News Channel's "Fox & Friends." ''It's a bad deal for America. It was an America second, third or fourth kind of approach."
Under the agreement, the U.S. pledged to reduce its annual greenhouse gas emissions in 2025 by 26 to 28 percent below 2005 levels, which would be a reduction of about 1.6 billion tons of annual emissions. Besides continuing Obama's efforts to reduce U.S. heat-trapping gases, Trump has two general options.
One option is to pull the United States out of the non-binding agreement, which Obama enacted without U.S. Senate ratification. It typically takes countries four years to pull out of new international treaties, but because Obama enacted the accord as part of the 1992 Rio de Janeiro treaty, Trump could pull out of the older, broader treaty in one year.
Another option is to do nothing. Trump could publicly badmouth the treaty, but not formally withdraw from it. If the U.S. stays part of the agreement, which 125 nations or groups of nations have already ratified, and fails to reach its goal, technically nothing happens. There is no climate court, no enforcement action.
And because the agreement already went into force, nothing the United States does— even pulling out — can nullify the accord. It is in effect.
Nonetheless, a withdrawal or public announcement that the U.S. is abandoning its efforts to fight man-made climate change could spark repercussions individually from other nations, said Nigel Purvis, who was the top U.S. State Department environmental diplomat when George W. Bush pulled out of the 1997 Kyoto climate treaty.
"Any sign that the administration would not be serious will provoke an international reaction that would undermine the administration's foreign policy," said Purvis, an international attorney who served in Democratic and Republican administrations. Other countries, he said, take climate change seriously and could retaliate in trade deals or tariffs or balk on negotiations over international security costs.
Trump has already reversed some of the former president's efforts to scale back carbon emissions to try to halt climate change, including restrictions on coal plants and drilling.
White House spokesman Sean Spicer has said Trump will make up his mind on the Paris agreement before a summit of the Group of Seven leading industrial nations in Taormina, Italy in late May.