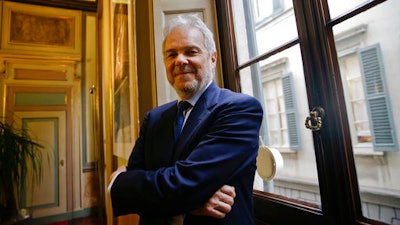 AP Photo/Luca Bruno, File
MILAN (AP) — Italian engineering and construction firm Salini Impregilo is ready to make the most of the Trump administration's planned $1 trillion spending bonanza on renewing the nation's infrastructure.
With its purchase last year of Lane Construction, based in Cheshire, Connecticut, the Italian firm gets a valid U.S. passport to bid on American projects.
While Lane gives Salini Impregilo important inroads into American infrastructure, Salini Impregilo's expertise in hydropower and tunneling projects, as seen in the Panama Canal extension, adds new sectors.
CEO Pietro Salini, who has been guiding the family-owned, publicly traded business through a period of expansion, spoke to The Associated Press before a trip to the United States to feel out U.S. President Donald Trump's plans.
___
Q. Have you seen Trump's plans and do you know where to concentrate your initial bids?
A. He made the first statements. Obviously a complete plan takes time, to give a series of indications of where principally to invest. It also remains to be seen what is meant by maintenance and renovation. One of the characteristics of the United States is that it is a country that invested before others in infrastructure, and having invested before others, today its infrastructure is old. As it is also in Europe. But while Europe doesn't seem to be aware of this, the United States is feeling constrained because their economy is growing.
___
Q. Have you included the Trump spending promises in your plans?
A. No, we haven't factored that in yet. But seeing the speed at which the Trump administration makes decision, I expect it very soon. Our business plan foresaw the market that existed.
___
Q. Are you bidding on the wall that Trump has pledged to build along the border with Mexico?
A. Walls are not our specialty. We make bridges, more than walls. Our specialty is ways of communications: water, energy, roads. We are more involved with these things.
___
Q. When you consider bidding on projects, do you also take into consideration the ethics, if it is something good for the world?
A. We reflect a lot on what we do, on what is the mission of the company. ... The mission is to realize work that is useful for people. We don't do symbolic works, or works that represent any political party or any government. We only do works that are useful for people.
___
Q. Considering Salini Impregilo's expertise with dams, have you looked at possible interventions at the Oroville Dam in California that recently threatened to collapse, forcing the evacuation of nearly 200,000 people?
A. It is a very interesting market and a sector where we can bring a big added value. There are around 14,000 dams in the United States that need intervention or maintenance, because they are old. ... In the United States, everything is insured, so if a dam collapses today, imagine the damages beyond the loss of life — the economic damage like houses, jobs, etcetera... Today you could think of reducing the comprehensive risk for the insurance companies and do a sort of bond to be able to intervene on these structures without spending too much money.