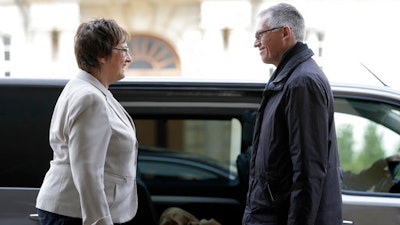 AP Photo/Michael Sohn
BERLIN (AP) — German economy minister and other officials have met with the head of automaker PSA Group and union representatives to go over details of the French company's acquisition of General Motors' European brand Adam Opel AG.
GM sold its Opel and Vauxhall brands to PSA in March for roughly $2.33 billion, making the French automaker, which also makes Peugeot and Citroen cars, Europe's No. 2 automaker after Volkswagen.
Opel employs 19,000 people in Germany out of a total workforce of 38,000, and the sale's raised concerns about job losses, especially in an election year.
Economy Minister Brigitte Zypries said Wednesday that CEO Carlos Tavares had reaffirmed PSA's commitment to respect existing labor agreements and that meeting participants agreed the sale "can offer significant advantages to both" PSA and Opel/Vauxhall.