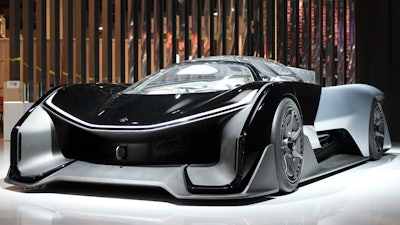 Flickr
LAS VEGAS (AP) — A contractor is suing upstart electric vehicle company Faraday Future, alleging that it is owed $1.8 million for work on graphic and digital elements behind the unveiling of a concept car at the CES gadget show in Las Vegas.
Neither Faraday Future spokesmen nor attorneys for the contractor, The Mill Group, based in Los Angeles, immediately responded Wednesday to messages about the civil lawsuit.
It was filed Jan. 13 in California state court in Los Angeles.
Mill Group alleges breach of contract. It says it has been paid $20,000 of a $1.82 million bill since completing work in October.
Faraday Future has said it'll have cars rolling off a new $1 billion assembly line in southern Nevada in 2018.
But construction work to build the factory was suspended in November.
Editor's Note: Faraday Future did respond to the allegations Tuesday on Twitter, suggesting The Mill Group did not meet their obligations: "We will take necessary legal actions against suppliers that failed to comply with contractual requirements to protect company interests," said the Tweet.