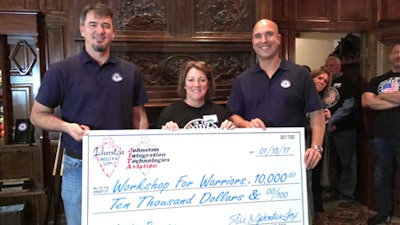 Workshops for Warriors (WFW), a nonprofit school providing Veterans with free training and credentials in computer-aided design and computer-aided manufacturing (CAD/CAM) programming, CNC machining and welding, announced a new partnership with Johnston Companies.
Johnston Companies is a family-owned, maintenance, repair and operations (MRO) distributor that serves manufacturers in aerospace, automotive/rail transportation, woodworking, and the machine shop industries. The company contributed $10,000 toward the program last week and has pledged to contribute $100,000 over four years to help support WFW training programs and scholarships.
"We have a current wait list of more than 500 veterans seeking entrance into our program. This donation would be a big boost to one of them wanting to help fund their ability to undertake this life-changing educational experience. We're extremely grateful for this scholarship," said Hernán Luis y Prado, Founder of Workshops for Warriors.
Between 2011 and 2016, WFW trained and certified 338 Veterans, with a combined 1,400 nationally recognized third-party credentials. In 2015, 94 percent of their graduates obtained jobs in advanced manufacturing after completing their programs. The mission of Workshops for Warriors is to provide a nationally scalable and repeatable platform to deliver quality training, STEM educational programs, and opportunities to earn third-party nationally recognized credentials.
More information is available at www.wfwusa.org.